Background: At SHIMMER Vol. 41, Ayako Hamada & Ayumi Kurihara bested Daizee Haze & Tomoka Nakagawa to become the new SHIMMER Tag Team champions; and their first challengers were none other than the mother-daughter pair, Saraya & Britani "Paige" Knight.
SHIMMER Volume 42
Berwyn, IL
October 1, 2011
Ayako Hamada & Ayumi Kurihara vs. The Knight Dynasty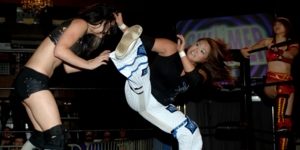 Saraya lambasted her daughter for mocking Hamada's stretching before the match, though Saraya gave a fan the thrill of his life by kissing him. Hamada was bored to sleep by Saraya's demands for silence. When things finally were good enough for her, Saraya started this bout off with fellow veteran Hamada – who took pride in knocking Britani off the apron while she wasn't looking. Series of kicks to the abdomen set up a huge head-butt from Hamada. A trifecta of body slams had the matriarch crawling to daughter for a reluctant tag. The scared Britani took a barrage of strikes that even shocked her mother. Though she was seemingly fearful of her daughter's well-being, Saraya continued to throw Britani back in every time Hamada or Kurihara knocked her to the floor. Britani valiantly kicked out of Kurihara's bridging suplex pin combination, only to take a dropkick seconds later. Throwing her boots up, Britani stopped Hamada's moonsault.
Just when Britani thought she had something going, Hamada blocked that dragonrana, being held in position for an Ayumi dropkick to the face and Hamada's Boston crab. Ducking an enzuguri, Britani made a run for Saraya, only for her mother to turn her back on her daughter. Britani was all-alone and left to take an AP Cross and the three count from Hamada.
Winner: Ayako Hamada & Ayumi Kurihara (7:55)
Is It A Classic: This was a really good bout, but surprisingly short. The fact Saraya forced Britani to do most of the heavy lifting proving to be the team's demise was fantastic in building toward the mother-daughter feud to come shortly after. It also helped put over the potential dominance of the champs, but not a classic bout to kick off their reign.