Background: At SHIMMER Vol. 32, using a well-timed shove to the floor & some baseball slides, Daizee Haze defeated Ayumi Kurihara via a count out to end Ayumi's undefeated SHIMMER steak – setting up a rematch with no count-outs.
SHIMMER Volume 33
Berwyn, IL
September 11, 2010
Ayumi Kurihara vs. Daizee Haze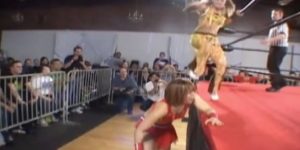 During Ayumi's in-ring introduction, Haze attacked Kurihara from behind. A shoulder block took Ayumi off her feet, and put her in position for a double stomp. Haze had Ayumi pinned against the turnbuckles, throwing right hands. Ayumi fired back, dropping her with those running double knees not once, but twice. Scaling the ropes, Kurihara lured Daizee into the hanging arm bar in the ropes. A little too happy for her own good cost Ayumi when Daizee kicked her to the floor before a celebrating Kurihara could reenter. Running across the apron, Haze kicked Ayumi's head incredibly hard. Whipping Kurihara from one end of ringside to the other, Haze found a focal point in Ayumi's back.
When the action returned inside, Ayumi tripped Haze into an open guard ground and pound onslaught before having her legs and arms butterflied. Haze used Ayumi's hair to roll her over before suplexing her in position for a modified Last Chancery. When Ayumi didn't give up, Haze unleashed two senton splashes that knocked the wind out of Kurihara, and further damaged Ayumi's back.
Of course, Ayumi didn't take the attacks lying down, almost victory rolling Haze before being dropped again. Northern lights suplex couldn't get Haze the pin, nor did the German suplex. Slapping Kurihara only fired her up. They were going forearm for forearm until Ayumi caught Haze with the codebreaker. With Haze lying against the ropes, Ayumi unleashed one of those running dropkicks. Ayumi scaled the ropes, only to miss the missile dropkick. Desperate, Haze went to undo one of the top turnbuckle pads. Kurihara recovered, grabbing Haze before dumping her with the Uranage Suplex. Ayumi quickly made the cover, avenging her loss from SHIMMER Vol. 32.
Winner: Ayumi Kurihara (9:11)
Is It A Classic: Considering their first match was solid, but rather lacking due to the obviousness of a second match to come, this one easily lived up to the hype the first match should've had. A definitive showcase of two women way ahead of their contemporaries.