One week from today marks the WWE return of "The Animal" Dave Batista. Batista, who became one of the company's biggest stars since The Rock and "Stone Cold" Steve Austin, moved on from wrestling in 2010 to pursue other ventures. Seemingly craving the mix of sport and entertainment that is World Wrestling Entertainment, Batista will come back to devastate and dominate. Lets take a look at what made "Big" Dave the legendary WWE Superstar worthy of such hype and notoriety.
Joining Evolution (2003)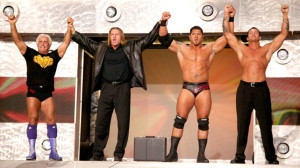 In 2002, Dave Batista joined the WWE's main roster … as a deacon. No, you're not reading that wrong. Deacon Batista was a second to Reverend D-Von Dudley, carrying a lockbox where Batista would take fans' money offerings for Dudley's charity efforts and church building. Lets just say Batista's time in the Church of D-Von didn't last long. Though big, powerful and menacing, Batista found himself aimless until Hunter Hearst Helmsley (Triple H) offered to groom this man with limitless potential.
During the tail end of 2002, Triple H aligned himself with "Nature Boy" Ric Flair. Having looked up to Flair and his Four Horsemen group since the faction's inception, Triple H wanted to replicate his idol's success. Joining Triple H and Flair were 3rd generation star Randy Orton and, of course, Dave Batista. Big things were obvious in the future for Batista because two of wrestling's biggest names both past and present wanted to be associated with him.
Winning the WWE World Tag Team title (2003)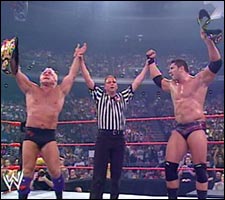 Not long after Evolution formed, Dave Batista found himself teaming with the legendary Ric Flair. Thanks to a triceps injury Batista suffered, the big man would have to wait almost the entirety of 2003 before achieving greatness. Alongside Flair, Batista ran the gauntlet in a Tag Team Turmoil match that featured themselves, Rosey & The Hurricane, Val Venis & Lance Storm, Mark Jindrak & Garrison Cade, La Résistance of Robert Conway & Rene Dupree and Test & Scott Steiner before defeating The Dudley Boyz to win the World Tag Team title.
This became Batista's first taste of WWE gold, and it was obvious he cherished the moment of winning alongside a great in wrestling just as much as attaining champion status for the first time in WWE.
Winning the World Championship (2005)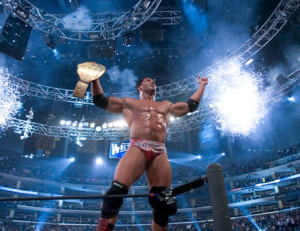 After winning the 2005 Royal Rumble match, Batista earned a right to face either the WWE or World Heavyweight champion in the main event of wrestling's biggest show of the year, "Wrestlemania". At the time, JBL held the WWE title while Batista's mentor and fellow stable mate Triple H was the World champion. The decision would've been relatively easy for Batista if not for the fact it started becoming painfully obvious Triple H was only keeping Batista in Evolution (this was after they kicked Randy Orton out following his World title victory) to make sure Hunter Hearst Helmsley didn't lose his lofty position. Arrogance brewed into overconfidence for Triple H until Batista dropped him with his devastating version of the power bomb before putting his name on the dotted line to face Triple H at "Wrestlemania 21".
The match's momentum swung back and forth until a bloodied Triple H succumbed to the Batista Bomb. Three seconds after hitting his finishing maneuver, Batista became the new World champion. With Batista as World champion and John Cena becoming the WWE champion minutes earlier, a new era in WWE had begun; and Batista was right there as the face of a new generation.
Defeats John Cena (2008)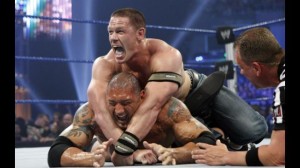 As noted above, Batista and John Cena had staked their claims as being the company's best by winning the "Raw" and "Smackdown" brands respective top titles. From the night they won the gold until the summer of 2008, many wondered whether or not the two biggest names in wrestling would ever face off in a one on one match. Outside of "Wrestlemania" there is no bigger event in WWE than "Summerslam". To give the fans what they had craved for almost four years, it was announced the two fan favorites would clash for the first time in a WWE ring where the winner would have to either pin or submit his opponent.
As you'd expect from two heavy hitters, Batista and Cena used their biggest, most powerful maneuvers. As the fans started rising in anticipation for either man landing the final blow and Cena scaled the ropes, "The Animal" caught a flying John Cena with "The Animal's" Batista Bomb that hurt Cena's neck and left him prone to another Batista Bomb that gave Dave Batista the victory when many believed Cena would overcome the odds as he had done so many times in the past to assert his superiority. On that night, Batista solidified himself as the top star in WWE no matter where he was placed on the card.
Quits WWE (2010)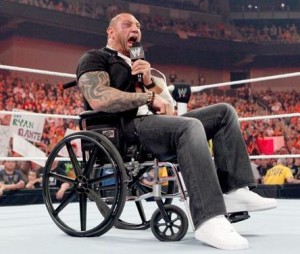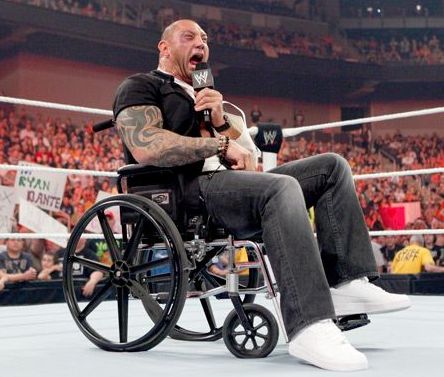 By the time 2009 rolled around, the wear and tear of wrestling had wrecked Batista's body. Many people believed Batista would retire sooner than later. Instead, Batista declared he'd go after the World Heavyweight title by beating men like The Undertaker (someone he feuded with during 2007), CM Punk (the person who used Batista's power and the Money in the Bank briefcase to win his first World title) and Batista's best friend in wrestling, Rey Mysterio. During a match featuring Batista and the three aforementioned grapplers, Mysterio cost Batista the World title. Furious over Rey's accidental actions, Batista attacked his friend and, subsequently, turned his back on the fans.
For the next several months, Batista became the "Kanye West of WWE" by letting his ego get the better of his talented self while insulting people he felt were inferior to him. Batista, looking to be put in his place, raised the ire of John Cena. Cena still hadn't avenged his loss from "Summerslam 2008" and found Batista as the WWE champion during this time. Cena, looking to kill two birds with one stone, faced Batista on three consecutive pay-per-views with three different match stipulations. The finale was an "I Quit" match that saw "The Animal" verbally submit to his opponent. Battered, bruised, and wheelchair bound, Batista sat under the spotlight before quitting WWE and professional wrestling unlike anyone else before him.
Batista, who entered the company with little fanfare left with more people talking about him than any wrestler in WWE. As seen by the reaction to Batista's return vignettes, nothing much has changed as fans of wrestling everywhere are anticipating the first sight of "The Animal" inside a WWE ring in almost four years.