Background: With the NWA United States Tag Team Championship vacated, teams from all points of the United States fought in a single elimination tournament to earn the rite to be the new Tag Team champions.
Worldwide
Rainesville, AL
February 12, 1990
Brian Pillman & Tom Zenk vs. Michael Hayes & Jimmy Garvin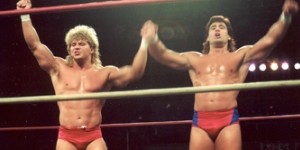 "P.S." Hayes decided he wanted to kick this one off with "Flyin'" Brian, a little upset the fans were happy to see Pillman easily sail around the ring and almost pinned him. Garvin tagged in, not doing any better than his partner until a simple side headlock kept him on one position. Then Hayes tagged in and showed he hadn't learned a thing by whipping Pillman into the ropes; giving Brian the momentum to arm drag, cross body block and even sunset flip Hayes for a near fall. Tom Zenk became the legal man, doing as well as his partner. The crowd was going wild in favor of the "Z-Man", especially when he started dropkicking both opponents. Finally getting a chance to use that dreaded side headlock, Garvin turned the tides in his team's favor. Hayes took up where his partner left off this time, but Zenk's ring awareness gave him the chance to fight back and tag out to a fired up Pillman. Dropkicks aplenty from "Flyin'" had their opponents strategizing.
It would take some well-timed, yet illegal teamwork to put Pillman on his back – specifically a clothesline from an apron-standing Hayes on the rope-running Brian Pillman. Big bulldog from Michael Hayes when he tagged back in to stop the fiery comeback Pillman was attempting. Trying to take a page out of Brian's book, scaling the ropes. But Garvin's climbing skills were lacking, giving Pillman the chance to recover and dropkick Jimmy from his perch. Crawling his way to his side of the ring, Pillman tagged out as Jimmy Garvin did the same thing.
Zenk was too on fire, showing great strength with his power slams. Things were breaking down until the referee grabbed Jimmy to force him out of the ring. As this was going on, Pillman springboard clotheslined Hayes into a Zenk pinning predicament to give Brian and Tom the three count and the title.
Winner: Brian Pillman & Tom Zenk (8:54)
Is It A Classic: While not the greatest, must-see type of match, these two teams never slowed down in front of a hot crowd. Worth a viewing, but not immediately.