Background: A few months earlier, Cactus Jack ended the undefeated streak of Van Hammer to start a mini-feud with the future World champion that would see them do battle in several matches including a televised Falls Count Anywhere bout.
Clash of the Champions XVIII
Topeka, KS
January 21, 1992
Cactus Jack vs. Van Hammer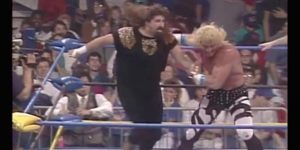 With his firework-spewing guitar in hand, Hammer shot some type of projectile at the incoming Jack to stun Cactus for a cross body block that ended in a near fall. Hammer was all over Jack, landing a flying clothesline to the back & front of Cactus until Jack caught him flying out of midair with a clothesline of his own. Cactus Clothesline took both men to the floor for the first pin attempt on the floor. Jack had something devastating mind by removing the ring mats. Cactus, instead of dropping the big elbow, utilized a sunset flip where he jumped off the middle rope to the concrete floor to gain a two count! Hammer recovered as they fought onto the entrance ramp, power slamming Jack for another two count. They were fighting up the entrance ramp with periodic breaks when "Heavy Metal" tried to pull off flash pins and Jack tried to throw Hammer off the ramp. Taking a sick hip toss off the ramp, Jack sailed some six feet; hitting nothing but concrete. Hammer went for the pin, but a barely moving Jack kicked out before the commercial break.
The show returned with both men fighting in the parking lot where interviewer Missy Hyatt tried to give in-person play-by-play where Jack and Hammer ended up in a bullpen where a cowboy cosplaying Abdullah the Butcher leveled Hammer with a shovel while aiming for former partner Cactus to knock out "Heavy Metal" for Jack's pin fall victory.
Winner: Cactus Jack (6:32 Shown)
Is It A Classic: Jack & Hammer had incredible chemistry, but TV time constraints didn't allow for a classic that could've happened. Good stuff, but not as good as it could've been.