During the "Wrestlemania 25" weekend, Ring of Honor shocked the independent wrestling world by giving Jerry Lynn the ROH World title. Unfortunately, Lynn's title victory caused a lot of backlash from the ROH fan base. In the 33rd edition of The ROHbot Report I looked at what created the backlash.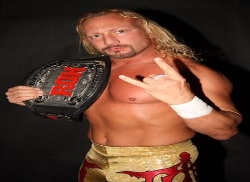 I know a lot of you are wondering what Jerry Lynn ever did to make me dislike his winning of the ROH World title so much. I think a lot of ROHbots have been asking the same question to other ROHbots following the backlash that came Saturday morning. After thinking about it for a week, I can say that it's not so bad that Lynn won the title. Looking at it now, it might be a smart move. Lynn is, arguably, the greatest known full-timer on the roster right now. More people would recognize his name on a poster than Tyler Black or Bryan Danielson. I think my problem with Jerry Lynn's victory is the chase.
Nothing about his chase to the title was spectacular, or even memorable. None his matches with Nigel McGuinness were made out to be important outside of the first one in last June when Lynn returned. Outside of the Videowires, you wouldn't even know how much of a big deal winning the title was to Lynn. His route to the gold was really an afterthought at the live events. If you've been paying attention to the DVD releases and results, Tyler Black seemed to be the one getting primed for the title.
That's problem number two. As much as I like Black, maybe he isn't ready for that spot on the top of the ROH mountain. If everyone booking Ring of Honor felt the same way, then why tease Black getting so close to winning the belt so many times without following through? I made a comment at the beginning of the year in the Report that Black might be taking the CM Punk route to the title. Well that's all well and good if it's true, but Punk didn't lose so many title shots before winning it; let alone losing so many times to the champ.
Come to think of it, Punk only lost one of his four ROH World title matches, with two going to a time limit draw. Black has lost how many matches to Nigel in the past year? If they knew they weren't going to put the belt on Black anytime soon, why not focus on Jerry Lynn – who appeared to be the heir apparent even before Nigel McGuinness' injuries started piling up? Why not give Lynn some momentum outside of a few strong wins here and there by having him voice his quest for the title in front of a live audience? Why not put Lynn and Nigel face to face several times throughout the course of live events leading up to Supercard of Honor outside of matches to have Lynn reiterate that he's gunning for the champ?
Maybe I'm thinking too much about the possibility that Lynn won the belt when he did instead of when he was supposed to. Maybe ROH had the big road to the title for Lynn already penciled in before the injury of McGuinness. Maybe that's not my problem with Lynn winning the title at all. Maybe my problem is his age.
Now don't get me wrong, the 46-year-old Jerry Lynn is still putting on matches better than guys half his age. An average Jerry Lynn match is better than what Triple H and Randy Orton did in the main event of "Wrestlemania". But that doesn't mean I have to like him as ROH World champion for the simple reason of what Ring of Honor World title, and more importantly ROH itself, has represented over the last seven years – youth. ROH has become the proving ground for many a young wrestler trying to make his or her mark in this business as a valuable part of its future. You look at every ROH World champion, and you'll see someone young who became a widely recognized great wrestler after winning the title, or someone who was already considered on the fast road to greatness solidifying that claim by becoming the ROH World champion.
Jerry Lynn didn't need to win the title. We already know how great he is. We've seen it for the last year that he's still got it. The importance of Nigel's era ending should've been used to propel someone else into stardom. Lynn doesn't need the rub of being a World champion. He's been there, done that. People like Tyler Black, Jimmy Jacobs, Roderick Strong, and Erick Stevens needed that title win. The future needed that title win.
I'll be the first one to tell you that Jerry Lynn is still one of the better wrestlers out there, and I hope his reign is a successful one for himself and the company. I just can't help but think what star could've been born if ROH played a different hand in Houston.