Background: After defeating Dean Malenko to win the WCW Cruiserweight Championship, Chris Jericho inadvertently convinced Dean Malenko to go home. Rather than take the victory with humility, Jericho mocked Malenko and his family; including Dean's deceased father. So, in Jericho's mind, what Malenko was better to challenge if Dean Malenko wasn't available? Bore Us Malenko – a take at Malenko father's name, Boris Malenko.
Monday Nitro
Nashville, TN
May 21, 1998
Chris Jericho vs. Bore Us Malenko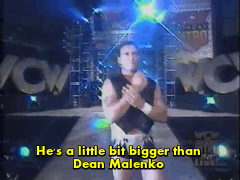 Bore Us had all the Dean Malenko mannerisms and look down pat, even right down to the icicle meets lightning bolts style tights. After pretending Malenko was too strong to handle, Jericho easily clotheslined him before going for the lateral press … that saw Jericho actually roll Malenko on top of him for a near fall. "Shocked", Jericho couldn't believe how close that two count was. Another big clothesline from Jericho left Bore Us reeling and prone to a slew of knife-edge chops. Following the spine buster, Chris Jericho locked in the Lion Tamer to force a submission victory.
Winner: Chris Jericho (2:53)
Is It A Classic: Nothing really special other than Jericho making a complete mockery of Dean. It was minor and insignificant from a short-term perspective, but the build to something fantastic was obvious.