Background: Shortly after being fired from World Wrestling Entertainment for choking a ring announcer with his necktie, Bryan Danielson made his Pro Wrestling Guerilla return to take on multi-promotional rival Roderick Strong during the company's seventh anniversary event.
Seven
Reseda, CA
July 30, 2010
Bryan Danielson vs. Roderick Strong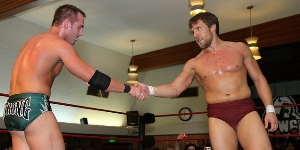 It didn't take long for the two familiar wrestlers to garner some tremendous reactions thanks to their impressive grappling. The fans were vehemently behind the returning "American Dragon". Roderick decided to turn this wrestling match into a fight, with Strong throwing chops to react to Danielson's kicks. Rocking Danielson gave Roderick a chance to suplex the former PWG Heavyweight champion several submissions, including a necktie choke! The illegal attack brought a, "You are fired!" chant from the crowd. Danielson responded with the busaiku knee. Eyeing Strong, Danielson grabbed the necktie to give his opponent a taste of his own medicine. The crowd's response: "You are hired!"
A smiling Danielson unleashed another flying knee on the fleeing Roderick. A staggered Strong reentered the ring, taking a missile dropkick topped by another knee strike. Stopping Cattle Mutilation, Roderick was able to power slam Danielson for a clothesline-flying knee-side slam combo. Rather than let the "American Dragon" get up, Strong immediately went for the Stronghold. Bryan Danielson turned the submission into a pinning predicament, leading to a pinning combination exchange. Neither gained the three count, leading to a strike exchange. Forearm after forearm from Danielson allowed the "American Dragon" to elbow the side of Roderick's head until Strong was prone to Cattle Mutilation! Somehow, some way, Roderick scooted his way to the ropes to save himself. The former "Daniel Bryan" hit the ropes, only to feel Roderick's Sick Kick … for a near fall!
From front to back, Strong was looking to knock the wind out of Danielson. In an effort to finish this match with his Gibson Driver, Strong actually set himself up for a triangle choke. Danielson converted the submission into a LeBell Lock that left Roderick with no choice but to tap.
Winner: Bryan Danielson (12:42)
Is It A Classic: Surprisingly short match for these two, yet it was absolutely enthralling from bell to bell. No matter what, it's hard for them to have a match below great; and this is just another example in their five-year-long (at that point) rivalry.