Background: After defeating Nosawa and Teddy Hart, former WCW Cruiserweight champion Juventud Guerrera earned the right face Chris Sabin (who bested former TNA X-Division champions Jerry Lynn and Frankie Kazarian) in the finals of the first ever Super X Tournament.
NWA-TNA Pay-Per-View #60
Nashville, TN
August 27, 2003
Juventud Guerrera vs. Chris Sabin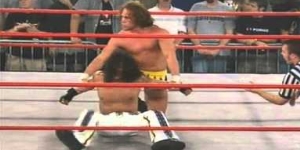 Chris Sabin immediately insulted Guerrera by slapping "The Juice". After a quick stalemate, Guerrera picked up the pace and almost kicked Sabin out of the ring. Juvi was on fire with dropkicks and arm drags. Just as announcer Mike Tenay noted his belief Juvi wanted to ground his opponent, Guerrera let Sabin off the mat before going for a hurricarana. Sabin stopped the attack, power bombing Guerrera on his head and left shoulder. Big enzuguri follow up from Sabin actually didn't keep Juvi down for long. Actually, Guerrera took control of this bout back, knocking Chris Sabin to the floor for a successful plancha. Neither Juvi's slingshot elbow drop didn't help him win, or his modified abdominal stretch.
Once again, it was Juventud's attempt at a hurricarana that cost him. Sabin spun Juvi around, wheelbarrow suplexing Guerrera to gain a near fall. The momentum swung back and forth in both men's favor. Sabin would be in control, only to be dropkicked seconds later. Guerrera countered an attack, only to have his reversal turned into a pinning combination by Sabin. The fans were on their feet as both men struggled to stay vertical. The opponents eventually rose with punches peppering their faces. The striking barrage turned into finisher attempt exchange. Counters turned into more counters that resulted in other attacks rather than what they initially had in mind. A good example of the previous statement was Juvi stopping the Cradle Shock by hitting a bulldog. After several tries, Guerrera literally dropped Sabin on the top of his head with the Juvi Driver … to gain a near fall!
Recovering and utilizing a DDT, Sabin scaled the ropes for an attack. The end result was Juvi dropkicking him out of midair and scaling the ropes instead. Superplex by Sabin left both men down and almost pinning each other. Both wrestlers ended up arguing with the referee over close counts until Sabin's mouth got the better of him and Guerrera caught him with the Juvi Driver. Juventud quickly jumped to the top rope, coming down with his 450 splash … for another two count thanks to Sabin getting his foot on the ropes!
Juvi was in shock as the fans chanted, "T-N-A!" Guerrera's reverse Juvi Driver failed; allowing Sabin to land on his feet. Pulling Juvi around, Sabin hit his Cradle Shock finisher to score the victory and become the first Super X Tournament winner.
Winner: Chris Sabin (14:46)
Is It A Classic: That was pretty wild and a perfect way to cap off the tournament. The early days of TNA's X Division were full of great wrestlers who could mix highflying technique with action unlike anything seen on television elsewhere in North America. Sabin and Juvi exemplified what the X Division meant to wrestling during that time. An early gem in TNA's history.