Background: After nearly three months of competing in trivia challenges, promo duels and, of course, wrestling matches, the finalists (Kaval, Michael McGillicutty and Alex Riley) of the second season of WWE's NXT squared off in a Triple Threat match.
NXT
New York, NY
August 31, 2010
Kaval vs. Michael McGillicutty vs. Alex Riley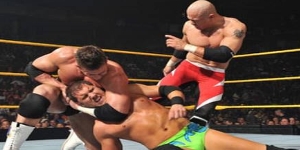 All three men came out swinging until Michael ran into a Kaval mule kick-spinning heel kick combo. Riley, who had been dropped by a double team back body drop, watched from the corner until Riley had to break up a pin attempt by McGillicutty on Kaval following a dropkick. "The World Warrior" got up throwing chops to anyone moving his way. Both Riley and Michael responded in the same way until McGillicutty suplexed Kaval to the floor!
Riley took control, focusing on McGillicutty as Kaval tried to recover. Attempted cross body by Alex Riley on a rising Michael ended with him meeting the top rope abdomen first. Avalanche splash by Michael dropped Riley as did Kaval's springboard kick to McGillicutty. Riley scaled the ropes for an attack that ended with him being kicked to the floor by Kaval. The Dragon Clutch was Kaval's follow up attack on a rising McGillicutty. Michael survived, avoiding "The World Warrior's" Tidal Crash to hit his father's patented maneuver, The Perfectplex … to gain a near fall thanks to Riley's interference!
Michael kicked Riley away, only to feel Kaval's capo kick. Before Kaval could utilize his Warrior's Way double stomp attack, Riley shoved Kaval from the top rope, to the floor! Riley immediately went for the pin on McGillicutty, attaining the final in-ring victory of NXT season two.
Winner: Alex Riley (7:22)
Is It A Classic: An exhilarating contest featuring three people unproven on the big stage delivering, easily, the best match featuring the NXT "rookies" during the season. The match might not win any awards or set the world on fire, but proved that the true cream of the crop had survived during the season.