Background: Billy Kidman looked to make his World Championship Wrestling debut in style by defeating the WCW Cruiserweight champion Rey Mysterio Jr.
Monday Nitro
Columbus, GA
September 9, 1996
Rey Mysterio Jr. vs. Billy Kidman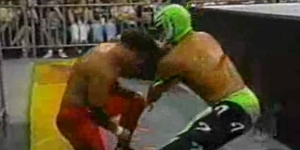 Friendly handshake started this fast paced bout where Kidman immediately went for the power bomb. Rey countered by using a hurricarana to send his opposition to the floor. Mysterio joined Billy, sending him back first against the guardrails. Kidman was stunned long enough for Rey to come out of nowhere with a head scissors. Billy Kidman looked to be out of it as the action returned inside, but caught the flying Mysterio with a dropkick. Superfly splash didn't help Kidman pick up the pin. Kidman, looking for a follow up attack, was taken down by a springboard somersault senton that allow Mysterio to hold Kidman down for the three count.
Winner: Rey Mysterio Jr. (1:40)
Is It A Classic: Well that was a travesty. Knowing what kind of matches these two would have down the line, this match is nothing short of disappointing thanks to the miniscule amount of time given.