Background: Shortly after being fired from World Wrestling Entertianment for choking a ring announcer with a necktie, Bryan Danielson made his Pro Wrestling Guerilla return to taek on multi-promotional rival Roderick Strong during the company's seventh anniversary event.
77
Reading, PA
September 24, 2004
Ultramantis Black vs. DJ Skittlez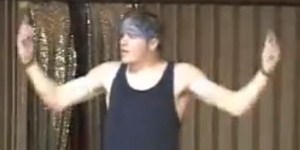 Very dishonorable way Black opened this match by dropkicing the entering Skittlez from behind. When the action returned inside, DJ fired back with kinfe edge chops to make Ultramantis screech like he was a burning cicada. Big clothesline from Black turned the tides in his favor, but the "roaring" crowd refused to let their favorite DJ give up. Surviving the rear chin lock, Skittlez had to fight his way through a modified Gory special. Lou Thesz press by DJ set up a series of right hands aimed at the masked face of Black. DJ's previous attack was topped by his springboard clothesline that he couldn't get much spring to thanks to the low ceiling. Taking a knee seconds later, DJ back dropped his way out of Black's, turning the potential atteck into a pinning predicament that kept Ultramantis down for the three count.
Winner: DJ Skittlez (3:50)
Is It A Classic: This match is a perfect example of how far CHIKARA has come. Not only do they have dedicated fans that'll pack venues around the country, their wrestlers have grown leaps and bounds beyond this type of match. Unless you want to see CHIKARA's humble beginnings, there's no point of going out of your way to see this match.