Background: After much negotiating, Steve Corino leveraged an ECW World Heavyweight title match for his dominant "Rookie Monster" Rhino. This would be Mike Awesome's first title defense since winning the title a few weeks earlier.
ECW on TNN
Plymouth, MI
October 1, 1999
Mike Awesome vs. Rhino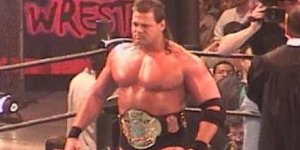 Big clothesline from the champion was only a precursor to the flying attack he had in mind. Suicide dive by Awesome saw the champion clear the top rope, landing face first on the concrete while taking down Rhino. Mike Awesome jumped to his feet, showing no signs of wear. The fans were going wild as Awesome set up a table at ringside for a possible Awesome Bomb. Rhino, rolling into the ring, couldn't stop Awesome's flying clothesline. Still aware, Rhino stopped the Awesome Bomb before capitalizing with a spine buster.
The crowd, still standing on their feet, watched as Rhino looked to fly. Diving head-butt connected for Rhino, but didn't end in his hand being raised in victory. Ducking a Rhino clothesline allowed Awesome to German suplex his challenger. Rhino was stunned after the attack, being Awesome Bombed over the top rope, through the table below! Rhino was pretty much out, but the champ wasn't done. Scaling the ropes, the champion dropped from the sky with his Awesome Splash for the pin fall victory.
Winner: Mike Awesome (4:27)
Is It A Classic: A champion-level squash special that the fans thoroughly enjoyed seeing their Heavyweight champion decimating Rhino. Awesome was unlike any man his size and seeing him toss around the large challenger was awe-inspiring.