Background: The epic and often times bloody feud between "Macho Man" Randy Savage and Ric Flair continued in World Championship Wrestling as the WCW World title became the focus of each man; with Flair being the champion heading into this event.
Monday Nitro
Las Vegas, NV
January 22, 1996
Ric Flair vs. Randy Savage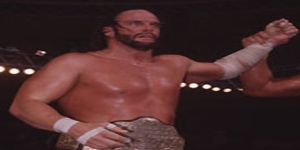 Before the match, Randy Savage was escorted to the ring by a bevy of women; including Woman – who had a ton of history alongside Ric Flair. Flair approached Woman, only to get slapped down.
Rushing Flair on the floor didn't help the challenger as he met the steel guardrails back first. Recovering in the ring saw Savage punch, clothesline and even gouge the face of "The Nature Boy". A stiff back elbow to the jaw of a running Savage turned the tides in favor of the champ. With the action spilling outside, Flair was able to whip Savage from one end of ringside to the other. The show headed to a commercial break as a fighting challenger went chest-first against the steel guardrails.
Returning to the show found Savage punching his way to an advantage. Once again, the fight went outside where "Macho Man" didn't lose control. In the ring, both men were swinging for the fences until Flair used a shin breaker to put his challenger in the Figure Four Leg Lock. The referee saw Flair's illegal usage of the ropes for leverage. Flair spent too much time showboating after his failed submission, getting caught on the top rope and knocked in position for three double axe handles. Things started breaking down and Flair's fellow Four Horseman Arn Anderson accidentally hit Flair with a pair of brass knuckles. Hulk Hogan ran to ringside to beat Anderson to the back as Savage dropped the Big Elbow on Flair … to pin Flair! We have a new World champion!
Winner: Randy Savage (8:35)
Is It A Classic: These two have had better. The match had the intensity of their prior clashes, but was more of an abridged version of the greatness they could and had created.