Background: After WWE champion John Cena was drafted to "Raw" during the company's annual Brand Draft, Cena drew the ire of "Raw" General Manager Eric Bischoff by not complying the "image" of being a champion. Dissatisfied with Cena as the show's top star, Bischoff handpicked Chris Jericho as the heir apparent to the WWE title.
SummerSlam
Washington, D.C.
August 21, 2005
John Cena vs. Chris Jericho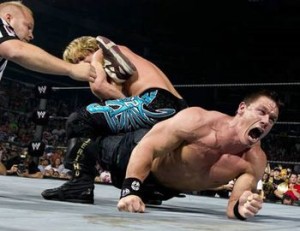 Before the match, Jericho got a good luck wish from Raw General Manager Eric Bischoff. The early happenings of the match saw both men going high impact move for high impact maneuver to gain an advantage. Jericho was able to gain the momentum after tossing Cena to the floor, then dropkicking him off the apron. The D.C. fans were pro-Jericho, but Cena certainly wasn't lacking in support; causing a cool dueling chants sequence by the sold out crowd. Cena was able to block the Walls of Jericho, hitting that top rope leg drop to the back of Jericho's head when Y2J tried to reenter the ring. Jericho wasn't done, turning the FU (Attitude Adjustment) into a DDT that put Jericho back in the driver's seat.
Cena decided to take the wheel, dropping Jericho with a stiff clothesline. When Cena went for the Five Knuckle Shuffle, Jericho popped off the mat, locking in the Walls of Jericho. The once mixed fans were now rooting for Jericho. The champ refused to stay down, making it to the ropes. Jericho seemingly knew if he could hit the bulldog-Lionsault combo, he could pin Cena. Cena saw what was coming, catching Jericho as he came off the ropes, spinning Jericho upside down until Y2J was sitting atop the champ's shoulders. Cena threw Jericho to the mat with the FU, getting the 1, 2, 3.
Winner: John Cena (14:50)
Is It A Classic: An exceptionally fun match that was perfect for its placement on the card. Cena hadn't come into his own as the star of the company yet, though all signs were pointing to him taking the WWE over thanks to great matches with top tier workhorses like Jericho. The crowd definitely made this one even better than it was, and the match itself is actually very good in its own right. Check this one out if you can.