Background: After running wild for a year as World Championship Wrestling Heavyweight champion and leader of the New World Order, Hulk Hogan entered the 100th episode of "Monday Nitro" ready to conquer a white-hot WCW warrior, Lex Luger. For Luger, this was his opportunity to win the WCW title and potentially save WCW from the nWo's tyranny.
Nitro
Auburn Hills, MI
August 4, 1997
Hulk Hogan vs. Lex Luger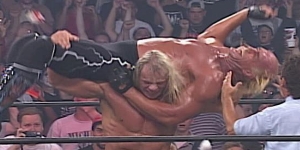 Hogan uncharacteristically quickly worked his way around the body of Luger to hammerlock his challenger. Shockingly for Hogan, Luger easily shoved Hulk away. The fans were all over Hogan as Luger stoically watched the champion. Furious, Hogan knocked Luger against the turnbuckles to choke his challenger. The champion was in complete control, clotheslining and choking Luger to his heart's content. Hogan's attempt to slam Luger's face against the turnbuckles ended with the champ's face meeting the padded leather. Before the show went to a commercial break, Hogan turned the tides by raking Luger's eyes.
Hogan was still in the driver's seat when the show returned. Using suplexes, Hogan thought he had Lex down for those precious three seconds. Big Boot by Hogan … for a two count!
Hogan slammed Luger in preparation for a successful Leg Drop … to gain another near fall!
The crowd was starting to lose its mind. Luger avoided the second Leg Drop, clotheslining Hogan. Turning around, Lex had to fight off the invading nWo forces of Scott Hall, Kevin Nash, and Randy Savage. Luger got up, motioning for the Torture Rack after using that running forearm. Luger hoisted Hogan on his shoulders, locking Hogan in the Rack … for a submission victory. We have a new WCW World champion to a huge ovation.
After the match, the WCW locker room emptied in celebration of Luger's victory.
Winner: Lex Luger (8:39 shown)
Is It A Classic: The match itself really isn't that great. The fans created a unique atmosphere that became electric during the match's closing moments. There's definitely a classic moment on the tail end of this somewhat short, cohesive contest.