Background: The month prior, Kurt Angle won the King of the Mountain match to become the new TNA World champion. The former champion, Mick Foley, instituted the rematch clause in his contract to attain a title shot. Foley also promised not to tap out in this match.
Victory Road
Orlando, FL
July 19, 2009
Kurt Angle vs. Mick Foley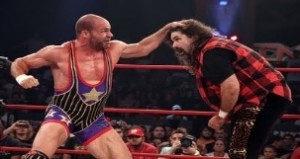 Boxing style intros for both men before the bell. Foley elbowed Angle to the floor after freeing himself from a headlock. The challenger was the first man to throw a punch, downing the champion before hooking Angle by his neck. Angle tried to slow Mick down, but ended up getting punched down before meeting Foley's knee with his face. Angle tried to run for haven on the outside, but Foley was on his heels. Leg drop by Foley across Angle's neck when Angle tried to enter the ring. Foley suplexed Angle back in. The champion had to claw Mick's face to turn the tides in his favor. Foley punched his way to freedom, using a slingshot to send Angle back to the floor. Angle blocked the piledriver on the floor, back body dropping Foley, causing Mick's left leg to slam across the steel ring steps. Angle honed in on that leg. Foley tried to fight back several times, but his leg would be his downfall. Foley stopped the German suplex. The champion countered, Ankle Locking the challenger.
The challenger rolled through the move, only to get dropped again. Angle missed the moonsault, jarring his left leg in the process. Angle walked into the double arm DDT. Angle kicked out of Foley's followed up pin. Angle stopped the Mandible Claw, pushing the challenger into the referee. Angle Slam for a two count. An angry Angle elbow dropped the referee before heading to the floor for a chair. Mick stopped the chair shot with the Mandible Claw, sending Angle to the floor angina. Foley stepped onto the apron before diving off, dropping the big elbow on the concrete.
Mick used all of his strength to push Angle back in for a pin attempt. Somehow, Angle got his shoulder up to save the gold. Mandible Claw with the back mount by Mick almost ended the champ's night. Angle rolled through, Ankle Locking Foley again. Foley clawed his way to the ropes. Angle kicked Foley, putting him in the Ankle Lock again, forcing Foley to tap out.
Winner: Kurt Angle (14:06)
Is It a Classic: Shockingly, Angle and Foley didn't have a bad match. Knowing the shape both men were in, it was amazing to see Foley not only hang with Angle, but pull off something that'll go down as one of the all-time worst. It's not a classic bout, but it's not a match you'd hate watching if you went out of your to find it.