Background: "Macho Man" Randy Savage was looking to release some pent-up aggression following the night Hulk Hogan turned on World Championship Wrestling to form the New World Order.
WCW Saturday Night
Orlando, FL
July 9, 1996
Randy Savage vs. Maxx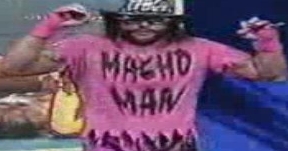 The large Maxx was able to shove Savage around, but "Macho Man's" ability to outthink his opponent led to Savage kneeing Maxx in the back when Maxx went to pose. Savage was unhinged, choking Maxx with his hands and the boot. Tossing Maxx to the floor, Savage was beating the life out of Maxx. The fans were in support of "Macho Man" as Savage slammed the big man in position for the Big Elbow Drop. Instead of going for the pin, Savage hit another Big Elbow Drop. Referees entered the ring when Savage signaled for a third Big Elbow Drop. Savage sailed over the three referees, dropping the third Big Elbow. The referees call for the bell as Savage left, giving the win to Maxx.
Winner: Maxx (3:14)
Is It A Classic: Nope, but it's always fun seeing Randy Savage act like a … well, savage.