Background: In preparation for Hulk Hogan's WCW debut, World Championship Wrestling officials rectified a problem over the top prize in the company by putting Ric Flair's WCW Heavyweight championship against the WCW International champion Sting in a title unification bout. Not only that, but this is a rematch from the original Clash from six-plus years ago
Clash of the Champions XXVII
Charleston, NC
June 24, 1994
Sting vs. Ric Flair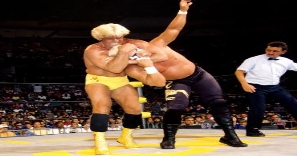 Before the bout, Sensual/Sensational Sherri came to the ring, wearing Sting-style face paint. Showing his unquestioned strength superiority, Sting shoved and slammed his rival around with ease. Flair had to take a powder on the floor several times, getting into arguments with the fans. Even when "The Nature Boy" started getting dirty by raking and clawing Sting's face it didn't stomp Sting's onslaught. 
It would take a drastic mistake for Sting to lose his momentum. That mistake occurred when Flair avoided a Stinger Splash, sending his fellow champion chest first into the turnbuckles. As Sherri tried to motivate "The Stinger", Flair took his time abusing Sting's face with knee drops, his body with chops, and Sting's legs by going after the Figure Four Leg Lock.
Sting worked his way off the mat, sending Flair face first against the top turnbuckles. "The Nature Boy" was Flair flopping all around the ring during Sting's comeback. Big clothesline by Sting almost ended Flair's night, as did the superplex. The fans were on their feet when Sting went for a big splash. Sadly for Sting, Flair moved at the last second. Somehow, Sting didn't feel the pain of Flair's follow up superplex before clotheslining Flair to the floor. When Sting went for the plancha, Flair pulled an unsuspecting Sherri in the line of fire. Stunned by what occurred, Sting was open prey for a cradle when the action returned inside, allowing Flair to attain the three count.
Winner: Ric Flair (15:55)
After the match, Sherri revealed she was working with Flair all along, leading to a two on one beating that only Hulk Hogan himself could stop.
Is It A Classic: This match is like a fifteen minute abridged version of Sting vs. Flair's greatest hits. That doesn't make it a bad or disappointing match, but doesn't feel as inspired as their previous battles. It's an entertaining affair, but not necessarily memorable.