Background: Almost ten years ago, Rey Mysterio Jr. and Psicosis burst into the American wrestling scene thanks to an importing of luchadores by Extreme Championship Wrestling. There, the two masked men tore the house down on several occasions, splitting victories before Mysterio won the feud and both headed to World Championship Wrestling.
ECW One Night Stand
New York, NY
June 12, 2005
Rey Mysterio vs. Psicosis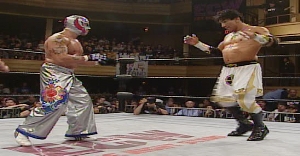 The unmasked Psicosis spent the early portion of this battle between the old rivals trying to overpower Mysterio. Using his leverage and agility, Mysterio almost pinned his fellow luchador. Face buster by Psicosis off the cross body block counter. This set up some back work on Mysterio, but the masked man easily avoided Psicosis to hit a caperana. Psicosis recovered, taking Rey to the floor for a guillotine leg drop that saw Psicosis' leg slam Mysterio's body across the guardrail.
Sadly for Psicosis, he took too much time pushing Rey back in for a pin fall attempt. Mysterio started picking up steam, hitting a face buster of his own before sending Psicosis into the front row where some ECW alumni moved out of the way so Rey could hit a super senton press on his opponent. Pushing Psicosis back in, Rey executed a springboard dropkick-619 combination that the fans didn't really take kindly to. But that didn't matter as Mysterio finished his old rival off with the West Coast Pop.
Winner: Rey Mysterio (6:51)
Is It A Classic: For obvious reasons – age, time constraints, not having wrestled each other in five years – this match wasn't half as good as their previous encounters. But what it did have was two men channeling what made their past bouts great. It won't make it to a "Best Of…" collection of either man, but it definitely had its place on the show.