Background: Diamond Dallas Page was currently involved in an intense rivalry with "Macho Man" Randy Savage. The best way to vent for DDP was to wrestle.
Monday Nitro
Saginaw, MI
April 21, 1997
Diamond Dallas Page vs. Psychosis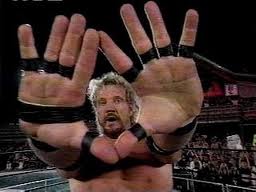 DDP kneed the masked man off a tie up, only to take a dropkick seconds later. DDP stopped Psychosis from scaling the ropes, pulling him off the top with a Diamond Cutter. The pin fall was elementary.
Winner: DDP (0:48)
Is It A Classic: Wow, didn't expect that at all. I saw the two names and instantly intrigued. Sadly, it did not meet my expectations. There's no classic wrestling much under a minute, so that should answer your question whether or not this is worth seeing.