Background: Originally, the CM Punk-led New Dawn group gave an open challenger for someone to take on Samoa Joe. Joe had a short work of Evan Starsmore. Instead of letting Joe leave without putting up a real fight against someone, Rainman challenged Joe to take on someone closer to his own size.
In Full Force
Arcadia, FL
May 27, 2005
Samoa Joe vs. Rainman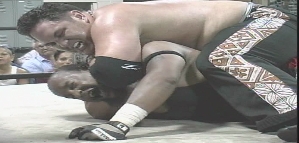 Rather than shove Rainman around like he did Starsmore, Joe looked to side headlock Rainman until he couldn't move. When Rainman broke free of Joe's clutches, Rainman dropkicked him into the turnbuckles so he could hit a yakuza kick in the corner. Sadly for Rainman, he ran into STJoe. That Joeism combo ended with a near fall and had CM Punk shouting for Joe to finish his opponent off. Every time Rainman tried to get something going, Joe's strikes put an end to his budding momentum.
Rainman survived Joe's submission attempts, eventually taking him down with a leg lariat. The fans were starting to rise thanks to Rainman's comeback and the antics of Punk at ringside. Sky High by Rainman didn't put Joe away. Right hand after right hand from Rainman ended with Joe ducking the strike and catching Rainman with a downward spiral. Joe started viciously kneeing Rainman's head until Rainman exposed his neck for The Choke. The fans demanded Rainman not to tap, and that's exactly what Rainman did. But the pressure of Joe's Choke saw Rainman pass out and the referee stop the bout.
Winner: Samoa Joe (7:01)
Is It A Classic: Unfortunately, it's more a disappointment than a classic. With the two names involved, you'd expect something longer and more memorable. Instead, you get an okay, forgettable undercard bout. With more time and a higher spot on the card, they could've done much better.