Background: This was a dream match of sorts featuring one of Puroresu's rising stars and GHC Heavyweight champion taking on the madman from West Virginia in Ring of Honor.
A New Level
New York, NY
May 10, 2008
Takeshi Morishima vs. Necro Butcher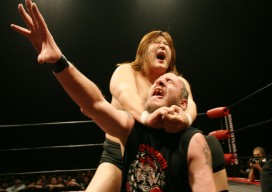 The history-making crowd was buzzing as these two behemoths slugged away in the middle of the ring. Necro was able to level Takeshi with one of those heavy lefts, sending Morishima to the floor. The wild man was dominating Morishima. Necro decided to ring Morishima's bell with the ring bell before pulling the ring mats off the floor. Instead of sending Morishima into the concrete, Takeshi back dropped Necro the cold floor. Morishima just plowed into Butcher before pitching him into the ring. The fans began to get under the skin of the former GHC Heavyweight champion, causing him to beat Necro mercilessly. Necro tried to fight back by slamming Morishima, but couldn't get the bigger man off of his feet.
The wind shot out of Necro's body as Morishima fell on top of him. Necro was able to take it all, avoiding the missile dropkick before clotheslining Morishima down. Necro took to the sky, cross body blocking Morishima for a two count. Necro pulled in a chair, DDT'ing Takeshi on it. Butcher picked up the chair for a swing, but got crowned with it instead. Morishima barreled his body into the chair, propelling it into Necro's chest. Morishima put Necro on the top before opening the chair behind Necro. Morishima side slammed Necro through the chair for a shocking two count. Takeshi followed up with a lariat, then the Backdrop Driver to pick up the win.
Winner: Takeshi Morishima (9:54)
Is It A Classic: More like "is it a disappointment?" This brawl between two titans could've been something memorable, but turned out to be a semi-squash. Sad.