Background: This intergender feud started when Essa Rios attempted to defeat Eddie Guerrero for the European championship. Instead, Rios and his valet Lita had to take consolation in stripping Chyna of her prom dress when Rios couldn't get the job done. The night after, Chyna paid Lita back by stripping her.
Smackdown
Richmond, VA
May 2, 2000
Eddie Guerrero & Chyna vs. Essa Rios & Lita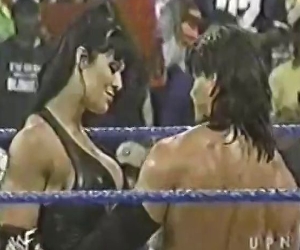 Lita didn't want to face Chyna in the ring, taking a spot behind Rios. Taking the roses Eddie gave Chyna during their entrance from her, Rios handed the flowers to Lita as the bell sounded. Eddie was furious over Rios stealing from his woman, suplexing Rios by himself and with Chyna. Chyna got in on the action by herself, slamming Rios in position for Guerrero's patented hilo. Rios paid Eddie back, fighting his way to Lita before dropkicking Chyna off the apron. Lita ran over to where Chyna lay, stomping her as Rios power slammed Eddie.
Grabbing the stunned Guerrero, Lita choked Eddie until Essa felt the need to whip Guerrero into the ropes. Eddie reversed whatever Rios had in mind, dropkicking Essa in position for another double team. Chyna dropped a big elbow, but got clotheslined when Rios got up. Lita tagged in, scaling the ropes. Sadly for Lita, Chyna crotched her on the rope before Lita could jump prior to power bombing her.
Hoisting Lita over her head, Chyna gorilla press slammed Lita before pinning Lita with a single boot on her chest.
Winners: Eddie Guerrero & Chyna (4:00)
Is It A Classic: Not much to say here outside of this being a solid intergender bout, but falling way short of being anything resembling a classic.