Background: At the previous Pro Wrestling Guerrilla event, Samoa Joe cost the team of himself and Bryan Danielson a victory against the Ballad Bros. Angered, Danielson challenged Joe to a match.
"The Musical"
Santa Ana, CA
April 17, 2004
Bryan Danielson vs. Samoa Joe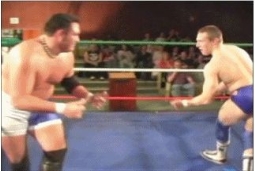 The initial Greco-Roman knuckle lock ended with both men trying to get in the other's head by either shoving or outmaneuvering the other. You'd probably be shocked to know who you believe did what was noted a sentence ago is actually wrong. Suddenly, a Westside Story snapping contest broke out, bringing a, "Holy s***!" from the crowd – and rightfully so. When it appeared things were getting serious, Joe and Danielson gave each other insulting pelvic thrusts after taking their opponent down. Danielson even broke out the moonwalk.
As people asked for different dances, Danielson grounded and tried to abdominal stretch Joe until he rolled himself right into a modified stretch muffler. "American Dragon" survived the submission, initiating a strike exchange that ended with Joe headbutting Danielson off of his feet. Stump puller by Joe almost forced a submission. Danielson turned the tables, using a straightjacket bow & arrow that had Joe yelping in pain. Big slam by Joe freed himself from Danielson's grip. Joe started raking Danielson's face with his forearm while reminding the referee he has a five count to break before being disqualified. When Danielson started giving Joe a taste of his own medicine, Danielson exclaimed, "F*** five!"
Dropkicking Joe to the floor, Danielson executed a huge springboard somersault plancha to take down the Samoan. Just as it seemed everything was going well for Danielson, Joe suplexed him to the floor and hurt his left leg! Danielson couldn't get up on his own power, causing Joe to playfully kick his head before chopping the life out of "Dragon". Ole kick by Joe got the crowd on their feet while asking for the attack one more. Joe, being a man of the people, gave them what they wanted and left Danielson out in his new front row seat … or so Joe thought.
Danielson threw two hard chops, only to be dropped by one of Joe's chops in response. The action finally returned inside, with Joe in complete control. Not only did Joe kick the life out of Danielson's back, he also washed "Dragon's" face, called him names, and kept hitting him until it looked like Danielson couldn't move. One of those strikes included a sick leg sweep that re-aggravated Bryan Danielson's hurt leg from that suplex to the floor. Joe uncharacteristically scaled the ropes, getting caught and superplexed in the process. Danielson took advantage of the situation he had created, trying to choke Joe out with a head scissors. Danielson started firing off chops, but eventually ran into that Samoa Joe power slam that left Bryan clutching his back. Joe's follow up spine buster didn't help matters for Danielson.
Out of nowhere, Danielson exploded with a flying European uppercut. Snap underhook suplex by "Dragon" allowed him to hit the flying headbutt seconds later. Both men rose using palm strikes aplenty until they fell out of the ring. Joe and Danielson got up, throwing kicks and chops respectively. Around ringside they fought until Danielson hit an ole dropkick. Danielson made a huge mistake going for another suplex that ended with him taking another suplex on the floor. Joe, likewise, lost the momentum thanks to something simple – a running elbow off the apron to the floor. The impact left Joe clutching his left knee.
Danielson was like a shark that smelled blood, going after the leg until he ran into STJoe. As Joe mouthed off, he threw a clothesline that Danielson used to set up a rolling elbow when Cattle Mutilation just didn't cut it. When Joe got up, he unleashed the clothesline he was looking for, turning Danielson inside out. "Dragon" was prone for a Boston crab, but scurried to the ropes to save him. With only thirty seconds remaining in the thirty-minute time limit, Joe went for submission after submission. Danielson held on long enough for the time to run out.
The crowd wanted five more minutes. Ricky Reyes came out, stopping the chance for this match from continuing by attacking Danielson when Bryan shoved him out of the way. Joe joined in on the beating of Danielson. Decapitation reverse DDT by Joe and Reyes left Danielson lying. When Danielson recovered, he claimed Joe was the Pedophile World champion before challenging Reyes to return and fight him like a man. Danielson challenged either man to a bout the next time he's in PWG before making sure everyone knows he is a far superior dancer than Joe.
Winner: Draw (30:00)
Is It A Classic: While Joe and Danielson have had better matches elsewhere, this is definitely one of their most unique contests as it goes from silly to downright brutal. The abuse from Joe made him seem like a bully (something even the fans watching started saying). Danielson, though smart, kept going to the well in unsuccessfully lifting Joe and ending up getting hurt because of it. In the end, the stage was set for a rematch. But their first clash in PWG is definitely something to remember, and doesn't feel like thirty minutes at all. Easily one of the early classics in PWG history.