Background: Bill Goldberg was on an unparallel undefeated streak during then-modern day wrestling, winning World Championship Wrestling's United States Championship during his warpath. Manager Sonny Ohoo brought rising Japanese star Yuji Nagata to the states in hopes of bringing golden glory to Japan.
Saturday Night
Springfield, IL
May 5, 1996
Bill Goldberg vs. Yuji Nagata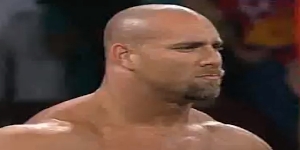 Announcer Mike Tenay stated Goldberg was 84-0 at this point. Nagata, who Tenay claimed Goldberg would have a problem with, threw some kicks that had no affect on the champion. Goldberg … used a rolling leg lock! Nagata pulled himself to the ropes to break the hold, but couldn't get away from Goldberg's clutches. Press slam by the champ into a dragon screw leg whip! What tapes was Goldberg studying before this match? As a limping Yuji rose, Goldberg plowed through him with the Spear. Of course the Jackhammer followed for another Goldberg victory.
Winner: Bill Goldberg (1:20)
Is It A Classic: Typical Goldberg bout featuring the big man using moves people had never seen from him at that point. It's not hard to understand why fans couldn't sit down watching the explosive offense of Bill Goldberg, but if you've seen a prototypical Goldberg match before, you've seen them all.