Background: Though she didn't have the most impressive record in SHIMMER, Amber O'Neal was considered a dangerous opponent for any lady. Looking to make a name for herself was the Lance Storm trained Tenille. Tenille would be tested very quickly by taking on the company's starlet.
SHIMMER Volume 23
Berwyn, IL
May 2, 2009
Amber O'Neal vs. Tenille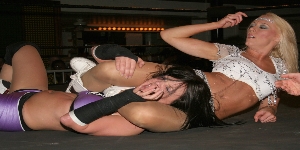 This is Tenille's – an Australian native – SHIMMER debut. Amber was able to take Tenille down for a couple of kicks to the Australian's lower back. But Amber opening attack only fired Tenille up. After knocking O'Neal to the floor, Tenille tried to pull Amber in; only to end up being pulled out instead. Tenille reversed an Irish whip, sending Amber back first into the guardrails. Amber clawed Tenille's eyes, dropping Tenille across the top rope throat first when the action returned to the ring. Amber drove her knees into Tenille's back before applying a figure four headlock.
Even though Tenille made it to the ropes, the referee refused to make Amber break the hold when she pulled Tenille away. When Amber realized Tenille wasn't giving up, she relinquished the hold so she could kick her in the back. Tenille ducked one of those kicks to her back, giving Amber a taste of her own medicine that ended with two dropkicks. Amber quickly recovered, putting Tenille in a hammerlock front guillotine. Tenille bounced off the ropes after the whip, using a cross body block to get a near fall. Amber kicked out, wringing Tenille by her neck with some suplexes. Tenille used Amber's cockiness against her, hitting a downward spiral. Tenille took too much time to capitalize, getting face busted. Tenille ended up getting put in that bridging backslide, allowing Amber to pin the newcomer.
Winner: Amber O'Neal (9:19)
Is It A Classic: A prototypical veteran vs. rookie type of match where the veteran ran circles around her "inferior" opponent, but the rookie showed tons of heart and potential. The future WWE Diva didn't have what it took to beat someone on Amber's level just yet, but definitely seemed destined for bigger and better things.