Background: After failing to defeat Sabu in the rematch of the "Grudge Match of the Century" when he failed to realize his shoulders were on the mat while choking Sabu into unconsciousness, Taz decided he wanted to speak. But Taz was interrupted by ECW Television champion Shane Douglas – who was guest commentating. A verbal battle ensued where Taz offered Shane Douglas a chance to rid the company of "The Human Suplex Machine" for sixty days. All Douglas had to do was put his belt on the line in a match where Taz had to make "The Franchise" tap out in three minutes or less.
Wrestlepalooza '97
Philadelphia, PA
June 7, 1997
Shane Douglas vs. Taz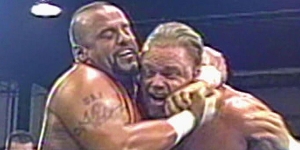 The fatigued Taz was fighting from the ground almost immediately as the champion bashed the challenger with his title belt. Big neck breaker from Douglas on the man with a previously broken neck, topped off by a DDT. The two-minute warning sounded out as Douglas tried to make Taz submit. The challenger fought through a full nelson, causing an Irish whip exchange to break out. Douglas ended up on the bad end as we had one minute left. Douglas was looking to leap over the incoming Taz, but got caught in the Tazmission rear naked choke instead.
Douglas was doing everything in his power to avoid submitting. Just as it seemed Taz would be left jobless for two months, Douglas tried to push off the turnbuckles a la Sabu minutes earlier. This time, Taz pulled his opposition backwards in midair, cinching in the choke as the clocked ticked down the final seconds. Douglas couldn't hold on any longer, tapping out to give us a new ECW TV champion!
Winner: Taz (2:51)
Is It A Classic: This was more of a spectacle than a match. The fans were into everything and absolutely went bananas when Douglas tapped out. Not much to get excited about due to the length, but you can't help but feel the emotion running through the crowd and the wrestlers.