Background: Madison Eagles' road to this SHIMMER title match started during her SHIMMER return at Vol. 29. One Volume later, Eagles defeated the current champion's rival turned part-time tag team partner Cheerleader Melissa (with her feet on the ropes) in a number one contender's match.
SHIMMER Volume 31
Berwyn, IL
April 11, 2010
MsChif vs. Madison Eagles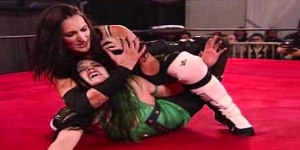 MsChif's trademark scream startled Eagles early to stop things like unclean breaks. MsChif used the Sarah Stock technique from the last Volume by trying to surprise Eagles with flash pins that would've ended this one quickly. Using the referee's kindness to her advantage, Eagles shoved him toward MsChif in hopes getting in a cheap shot. MsChif was ready, rolling Eagles up again. When the challenger kicked out, she clobbered MsChif's back. Running knee strike on the champ almost ended her ring. MsChif found herself twisted and tied by Eagles, struggling to the ropes. Eagles enjoyed her abuse on MsChif until the champ used a victory roll face buster to set up her Boston crab-camel clutch combo. Biting at MsChif's hands was the only thing that saved Madison.
Grabbing MsChif's legs, Madison had the champion locked in an Indian death lock she felt would make the champ submit. When MsChif made it to the ropes, Eagles side Russian leg swept MsChif into a unique abdominal stretch variation. Every time MsChif made it to the ropes to stop a submission, Eagles would contort or twist MsChif into another hold. Eagles took her attack one step further by turning those failed submissions into lateral presses. The challenger made a big mistake by going for a slam when MsChif slipped out of her grip, drilling Eagles with Gateway to Annihilation.
Eagles kicked out of MsChif's pin attempt following the attack, as well as a standing moonsault. The challenger exploded off the mat with a clothesline after taking those double stomps in the corner. Eagles effortlessly hoisted MsChif off the mat, executing Hell Bound. Madison Eagles covered MsChif … getting the three count! We have a new SHIMMER champion!
Winner: Madison Eagles (11:59)
Is It A Classic: Madison Eagles came in with a game plan that figured out the MsChif puzzle. There was a good chance Eagles couldn't fight fire with fire like Melissa did years ago to stop MsChif, so she took MsChif to the mat and wore her out expertly. Slowly but surely, everything Eagles worked towards during the match's progression weakened MsChif to the point she couldn't effectively unleash a flurry of offense, or quickly drop Eagles with the Desecrator. It was the perfect plan, and Eagles became the new SHIMMER champion. Just a fantastic way to end MsChif's reign and set the tone for Eagles' tenure as, arguably, the best women's wrestler in the world.