Background: ECW World Heavyweight champion Mike Awesome trumped both ECW legend Taz and his long-time rival Masato Tanaka to become the champion two months earlier. Looking to get the one-on-one title shot he thought he'd have at "Anarchy Rulz", Tanaka had the chance to kill two birds with one stone by not only beating his rival again, but also becoming the first ever Japanese ECW World champion.
"November to Remember"
November 7, 1999
Buffalo, NY
Mike Awesome vs. Masato Tanaka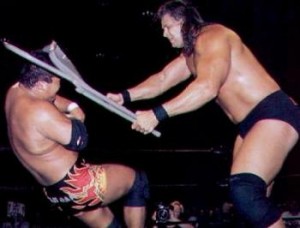 Rather than lock up, Awesome caught Tanaka with a kick to the abdomen before wearing him out with right hands before showing his agility early by running up the ropes to deliver a back elbow. Sadly for the champion, Tanaka turned the tides by taking the fight to the floor to bash Awesome on his head with a wooden chair. When the action returned inside, Awesome caught his challenger with a belly-to-belly suplex to send Tanaka back outside. Suicide dive by Awesome saw him clear the top rope to take Tanaka down. Looking to top his previous effort, Awesome used a springboard clothesline from the ring, to the third row where Tanaka stood.
In a sickening display that would make Chris Nowinski vomit, Awesome dropped Tanaka after wrapping chair around his head. Tanaka powered off of the mat, using a Roaring Elbow to drive Awesome's chair into the champion's face … for a near fall!
Tanaka wasn't upset about the kick out, using a tornado DDT that saw Awesome's head meet two steel chairs. Awesome blocked Tanaka's second attempt that the DDT, power bombing his challenger for a two count. To the roar of the crowd, Awesome motioned for the Awesome Bomb through a table on the floor. Tanaka slipped off of Awesome's shoulders during the champ's running start. Both men fought their way onto the apron where Awesome power bombed Tanaka through the table!
Awesome was shocked when Tanaka kicked out of his follow up pin. Awesome's manager, Judge Jeff Jones, slid a table into the ring that Awesome wanted to splash Tanaka through. Masato changed that plan by meeting Awesome on the top rope before superplexing the champion through the table!
A huge, "ECW!" chant broke out before Masato Tanaka's failed pin attempt. Awesome took Tanaka's Diamond Dust, but ducked the Roaring Elbow. Explosive clothesline from Awesome after the German suplex set up an Awesome Splash … that gave him a two count!
The crowd exploded after Tanaka's kick out. Awesome immediately grabbed Tanaka, taking him to the top rope. Tanaka tried to fight him, but eventually fell to the super Awesome Bomb. Awesome fell atop his rival, attaining the three count to a huge ovation.
Winner: Mike Awesome (12:28)
Is It A Classic: These type of matches definitely set pro-wrestling as an art back several decades, but man is it a spectacle. There's nothing new here between the two long-time rivals, but this match is just as brutal as their previous battles. If you like crazy matches with chair shots, broken tables, a high-flying big man, a scarred Japanese grappler, and a crowd going crazy for it all, this is the match for you.