Background: To cap off Extreme Championship Wrestling's New York debut, two of wrestling's most extreme grapplers – Cactus Jack and Sabu – faced off one more time in the confines of an ECW ring.
Holiday Hell '95
Queens, NY
December 29, 1995
Sabu vs. Cactus Jack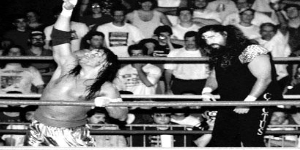 Cactus Jack, being a former amateur wrestler, asked for this match to be contested under Olympic style rules. The referee went along with Cactus' request, with Sabu taking the under position. Angry over this, 911 came out to Chokeslam the ref not once but twice before proclaiming himself the referee.
Dey's a clubberin' in Queens, Tony! Sabu immediately grabbed a chair in hopes of flying, but Cactus took a run to the floor. Sadly for Jack, Sabu easily followed by sailing over the top rope to knock Cactus through the barricades. Sabu had Jack reeling thanks to flying attacks and right hands aimed at Cactus' somewhat toothy mouth. A simple elbow from Jack knocked Sabu out of midair and allowed him to crack Sabu in the back with a chair to set up and execute his double arm DDT.
Another DDT ended with Sabu landing head first against the chair, but the attack didn't put Sabu away. The fans rose to their feet after Jack tossed Sabu to the floor for that Cactus elbow drop from the apron with a chair under his arm for added damage. Sabu was trying to fight his way to an advantage; only to find avoidance of Jack's attacks was the smartest move, causing Cactus to get hung in the ropes by his neck when failing to connect with the Cactus clothesline. Recovering quickly, Jack reentered the ring to check his hurting right ear after sending Sabu chest first against the steel guardrails. The hardcore momentum swung as Sabu kept grabbing chairs to set up successful maneuvers. One of those attacks allowed Sabu to cross body block Jack off the apron, through a table!
Sabu's affinity to chairs cost him as he went for the Arabian Press, only to slam his knee against the chair. The attack fired up Jack, leading to a fistfight and Sabu heading to higher ground. Chair shot after chair shot from Sabu put Jack in position for his Atomic Arabian Face Buster. Leg dropping the chair across Jack's face didn't give Sabu the victory, but a failed body slam by Jack that ended with Sabu falling on top of him did.
Winner: Sabu (12:47)
Is It A Classic: It's what you'd expect from two men refusing to hold anything back in an ECW environment. The biggest problem was how much was too much. The chair attacks became redundant and ineffective in gaining a reaction after a while, leading to a relatively flat finish. It's not a bad match, but disappointing.