Background: Flying in some of the biggest names in Japanese women's wrestling, CHIKARA Pro wrestling held three nights of joshi action; aptly dubbed "JoshiMania". In a dream match, arguably the best women's wrestler going today in Sara Del Rey faced the Japanese monster and legendary figure of women's wrestling, Aja Kong.
JoshiMania: Night 1
Philadelphia, PA
December 2, 2011
Aja Kong vs. Sara Del Rey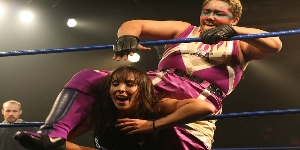 Showing a little disrespect for her opponent, Aja told Del Rey to kiss her booty. In response, Del Rey attacked a walking-away Kong. When Del Rey's ability to out-grapple Aja didn't work, a chop exchange broke loose. Kong seemed unfazed by Del Rey's headbutts. Sara got dropped by one of Kong's headbutts. Kong took Del Rey to the mat, looking to wrench "The Queen of Wrestling's" neck. Del Rey showed great heart, surviving a big elbow drop to fight back and lock in an arm bar. Kong was close enough to the ropes to save herself.
Kong took each of Del Rey's forearms, responding with a sick slap that almost knocked Sara out. Del Rey was frantically flailing toward the ropes to stop a sleeper hold. Getting to her feet, Del Rey connected with three big boots to finally put Kong on her back. The follow up pin after Sara's big boots and axe kick didn't stop Kong. Knocking Kong to the floor, Sara took a chance that paid off with Del Rey hitting the somersault plancha.
Reentering the ring, Sara Del Rey used the capo kick to set up her Fujiwara arm bar. Kong refused to submit.
Aja Kong used Del Rey's attempt at an Irish whip to clothesline her. The attack didn't pay off too well as Del Rey responded with a big roundhouse kick into the German suplex … for a near fall!
Kong, desperate, pulled the referee in the way of Del Rey's second capo kick. This gave Aja the chance to bash Del Rey in the head with a trashcan. Kong followed up with the back drop driver, only to find the referee was still out. Aja Kong revived the referee, looking to Spinning Back Fist Del Rey afterwards. Instead, Kong missed the Back Fist, getting rolled up for a shocking three count.
Winner: Sara Del Rey (11:50)
Is It A Classic: Sadly, the hype for this match might've been too much for the two women to live up to. With that said, the match is very good. Del Rey, who is usually the Aja Kong in her matches, played the underdog wonderfully against a woman who anyone would believe could beat people down. A really good match, but with the "dream match" tag line, it doesn't reach that level of classic status.