Background: Ken Shamrock was on the warpath in the fall of 1997 after making Bret Hart tap in the Ankle Lock. Unfortunately for Shamrock, the ref was knocked out during Shamrock's counter to Hart's Sharpshooter. When Bret locked Shamrock in his patented submission minutes later, Shawn Michaels came out to Super Kick Hart in front of the referee. Shamrock went crazy, tearing into Michaels; setting up this match.
"Raw Is War"
Hershey, PA
November 3, 1997
Shawn Michaels vs. Ken Shamrock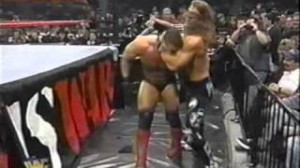 Before Michaels could take off his entrance attire, Shamrock rocked him with right hands. Hosting Michaels overhead, Shamrock pitched HBK over the top rope, on top of Michaels' seconds, Hunter Hearst Helmsley and Chyna. Grabbing Triple H and HBK by their hair, Shamrock slammed them face first into each other before dragging Shawn back in for another series of strikes. Even a dreaded eye poke couldn't stop Shamrock. Things were getting ugly as Shamrock awkwardly hip tossed and arm barred HBK until he clotheslined Michaels and himself over the top rope. Slipping behind Shamrock, Chyna shoved Ken face first into the steel ring post before wrestling legend Rick Rude came out and Raw went to a commercial break.
Coming back to the show, HHH was wearing out a reeling Shamrock with right hands. The simplistic attack of Shawn Michaels had Shamrock grounded until HBK let him up. Michaels' actions almost cost him as Shamrock exploded off of the ropes with a cross body block. As Michaels tried to stop Shamrock with a rear chin lock, Vince McMahon noted that Hart vs. Michaels at the upcoming Survivor Series event in Montreal might be the last time we see Hart and Michaels square off (good one, "Vin Man").
Avoiding an incoming Michaels, Shamrock started throwing those right hands before unleashing two flying attacks – a back elbow and a leg lariat. Sadly, Ken's attempt at a hurricarana ended with him being power bombed for a two count. Ducking Sweet Chin Music, Shamrock belly-to-belly suplexed Michaels before using a dragon screw leg whip to sweep Michaels into the Ankle Lock. As Michaels started tapping out, Chyna jumped onto the apron to distract the ref. The plan worked as not only did the referee not see HBK tapping, but also allowed Rick Rude to knock out Shamrock with his metal briefcase.
Instead of leaving the ring, Rude ushered in HHH to Pedigree Shamrock onto the briefcase as the referee called for the bell. The last image was an unconscious Shamrock laid out following a sickening Pedigree.
Winner: Ken Shamrock by disqualification (8:30)
Is It A Classic: Well, there's only so much Michaels could do with an obviously still green Shamrock who looked a little afraid in such a high position. But there were obvious moments when HBK's attitude and anger got the better of him and caused the match to stumble. While not a terrible match, it's nothing you need to go out of your to see.