Background: Seeing that Big Boss Man really wasn't a purveyor of justice, "The American Dream/Common Man" Dusty Rhodes took it upon himself to beat some law and order into Boss Man while stealing Boss Man's trademark nightstick.
Saturday Night's Main Event
Topeka, KS
October 31, 1989
Dusty Rhodes vs. Big Boss Man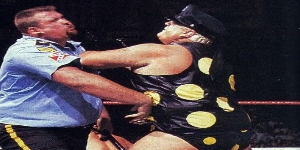 When Rhodes called for Boss Man's manager Slick to be thrown from ringside, Slick whipped out his manager's license. This slight distraction allowed Boss Man to get the jump on Rhodes, raising the ire of a nearby fan in the front row. Rhodes' focus on Slick cost him even when he started throwing those patented right hooks. Kicking Dusty's incoming arm, Boss Man had Rhodes unsuccessfully fighting off the mat.
It was Boss Man letting Rhodes off the mat for some right hands that halted his momentum as he flew into the turnbuckles instead of splashing Rhodes. Thankfully for Boss Man, he was able to clobber Rhodes from behind. Boss Man turned to Slick, asking for the nightstick. Before Slick could follow his man's order, that same fan verbally distracted Slick. Dusty surprised Boss Man with a cradle and pinned him.
After the match, Dusty brought the fan into the ring for a little bit of dancing. This fan would later becoming Dusty's valet, Sapphire.
Winner: Dusty Rhodes (4:47)
Is It A Classic: This match is probably known more for Sapphire's debut than anything that happened in the ring. Dusty and Boss Man had some good chemistry, but didn't have the time to put something together that was memorable.