Background: Kurt Angle, holding all of Total Nonstop Action's male titles, had the problem of having to defend each championship in one night. After failing to retain the TNA Tag Team title, Kurt Angle had to defend the X Division championship against "Black Machismo" Jay Lethal.
No Surrender
Orlando, FL
September 9, 2007
Kurt Angle vs. Jay Lethal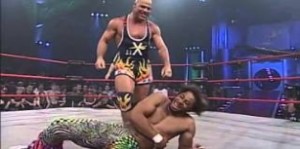 The champion was actually stunned in the early going by Lethal's underrated grappling abilities. The power of Angle allowed the champ to hip toss Jay across the ring and turn the tides in champion's favor; though the crowd was still behind Lethal. This support gave the challenger the energy to hit Lethal Combination II off an Irish whip reversal. Just when Jay had things going his way, Angle kicked Lethal when Jay tried to pick him up, turnbuckle power bombing Lethal for a two count.
Angle grounded Lethal, looking to work over Jay's back and neck. The fans rallied behind the challenger, giving him the will to fight. Angle did his best to neutralize the challenger with suplexes, taking the crowd out of the fight. When Jay elbowed his way off the mat, both men threw clotheslines that took each other out.
Just when Lethal thought he had things going his way, Angle German suplexed Lethal halfway across the ring for a two count. Angle was looking for the Olympic Slam, but took a DDT instead. Jay signaled for the end with the Big Elbow Drop. Angle suddenly ran up the ropes, belly to belly superplexing Jay … for a near fall!
Angle couldn't believe Jay was still kicking out of the champ's pins. Lethal was hurting following three German suplexes, but refused to be pinned. Once again, Lethal countered the Olympic Slam, executing a Lethal Combination. Rather than go for the pin, Lethal dropped the Big Elbow … for another near fall!
The fans were gasping following each two count. Jay was beside himself. Angle ducked a wild haymaker, release German suplexing Lethal in position for a third attempt at the Olympic Slam. For the third time, Lethal countered the attack, almost pinning Angle. The champ kicked out, sweeping Jay into the Ankle Lock. Out of nowhere, Lethal flipped through the submission, victory rolling Angle for the three count!
Winner: Jay Lethal (12:19)
Is It A Classic: This was a star-making match in the finest sense. Jay Lethal, the underdog, not only hung with the world-class wrestler, but also was one step ahead of him on several occasions. The story of Angle's reliance on the Olympic Slam proving to be his downfall was an excellent way to build drama and eventually give Lethal the victory. It's sad TNA didn't really follow through with Lethal's victory/push because they had a main eventer in their hands thanks to this match.