Background: After failing to capture the Ring of Honor World title, Claudio Castagnoli took it upon himself to challenge legendary Japanese wrestler Kensuke Sasaki during one of ROH's biggest weekends of the year.
Glory By Honor VII
Philadelphia, PA
September 20, 2008
Kensuke Sasaki vs. Claudio Castagnoli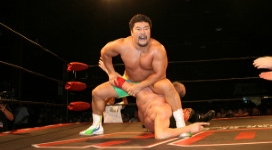 The battle of power was seen very early, as neither could shoulder block the other down. Sasaki switched it up, chopping Claudio down. Claudio used his height to force Sasaki down with the test of strength, only to get slammed down. Claudio decided to unleash those European uppercuts, only to get chopped down again. Sasaki ran into another uppercut, allowing Castagnoli to drop him across the top rope throat first. Claudio used that seated uppercut to the back to weaken the neck of the GHC Heavyweight champion.
Sasaki fought back; shoulder ramming Claudio into the corner behind him so he could wear him out with a lariat-chop combo. Once again, Claudio went back to the uppercuts to stun Kensuke long enough so Castagnoli could hit the ropes. Sasaki caught Castagnoli on the rebound, judo slamming him for a near fall. Sasaki wanted to clothesline the rising Swiss man down, but ended up getting a ride on the Waterslide. Sasaki blocked the Ricola Bomb, causing Claudio to knock him down with another uppercut for a close two count.
The action moved to the top rope, where Sasaki used the hurricarana to send Claudio across the ring. Sasaki whipped Claudio into the ropes, with Castagnoli rebounding with the bicycle kick. Castagnoli went for it again, but ended up getting power bombed for another near fall. Castagnoli recovered, springing off the middle rope with the European uppercut, then another bicycle kick for a two count. Claudio hit the Ricola Bomb, but couldn't keep Sasaki down. Sasaki got behind Claudio, dumping him on his head. Sasaki called for it, and used the Northern Lights Bomb to finish Castagnoli off.
Winner: Kensuke Sasaki (14:44)
Is It A Classic: Solid, yet underwhelming. This had all the makings of being a classic (two big, athletic guys beating the life out of each other) but really fell short of its lofty expectations.