Background: A thrown together bout for WWF's late night show, "Shotgun Saturday Night".
Shotgun Saturday Night
Tucson, AZ
March 17, 1998
Taka Michinoku vs. Christopher Daniels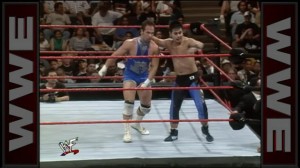 Weird seeing Daniels wearing a singlet. Even weirder hearing Michael Cole call him "The Fallen Angel". Jim Cornette also put over Daniels as he tossed Taka over his head until Daniels belly-to-belly suplexed him. Head scissors by Daniels sent Taka to the floor. Daniels looks to follow by jumping off the top rope. Michinoku moved at the last second, sending "The Fallen Angel" face first into the barricades.
Michinoku, shockingly, slowed the pace down while keeping Daniels out on his feet until he hit a tornado DDT. The fans were all over Taka, giving them something to cheer for when Daniels countered another tornado DDT into a power slam. Daniels got up, throwing right hand after right hand before executing a slingshot jackhammer to gain a two count. Don't think I've seen that move since. Taka had to thumb Daniels in the eyes to gain some distance, leading to a pin exchange that ended with Daniels hitting Angel's Wings to a huge ovation … and a near fall!
Daniels spent too much time arguing with the referee, being power bombed instead of using a hurricarana. Daniels blocked the Michinoku Driver on the first try, but not the second, giving Taka the victory.
Winner: Taka Michinoku (4:29)
Is It A Classic: They packed a lot of action in less than five minutes, and it was exhilarating to say the least. Hindsight is twenty-twenty, and it was obvious that WWF fans would've gotten behind the division thanks to matches like these. Very good match, but not necessarily a classic.