Background: At SHIMMER Volume 2, Cheerleader Melissa tagged with Tiana Ringer to take on Shantelle Taylor and Ariel. Melissa ended the bout with her hand raised in victory after using the Air Raid Crash on Taylor.
SHIMMER Volume 3
Berwyn, IL
February 12, 2006
Cheerleader Melissa vs. Shantelle Taylor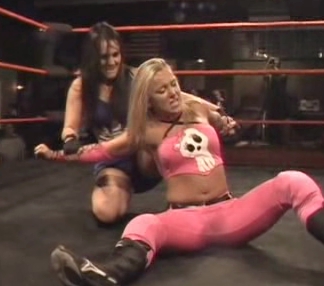 Taylor got the crowd behind her to frustrate Melissa while avoiding the collar & elbow tie up. The fan favorite eventually yanked Melissa in position for a side headlock. Melissa had a hard time freeing herself from the headlock, but when she did, Shantelle felt the anger and strength of Melissa when "The Future Legend" swept her into a hammerlock. Melissa seemingly enjoyed cranking on Taylor's left arm. When Taylor switched positions and put the pressure on Melissa, the angered Cheerleader dragged her to the mat by Taylor's left arm. Instead of just beating on Taylor's arm, Melissa took this opportunity to slam and whip Shantelle around the ring. This cost Melissa after Taylor exploded off the ropes with a wheelbarrow arm drag.
Rather than wait for Melissa to reenter, Taylor started chasing her. Shantelle ran into a pair of boots when she followed Melissa back in, almost getting dropped on her head with the Kudo Driver. When Melissa's finisher didn't connect, Melissa unleashed a running forearm in the corner. Taylor started firing back with forearms of her own. Handspring back elbow by Taylor didn't help her much as she got German suplexed seconds later. The fans were really getting behind Taylor, though Melissa was in complete control. Once again, Melissa couldn't complete the Kudo Driver, getting rolled up instead. Melissa kicked out, clotheslining Taylor to take her and the crowd's momentum out of the match.
Tying Taylor in an inverted Texas cloverleaf, Melissa demanded Taylor tap out. Showing great heart, Taylor made it to the ropes to save herself after several tries. Melissa was working over every important part of Taylor's body to break her down. Thankfully for Taylor, the fans' energized her. Taylor was throwing forearms and chops, knocking Melissa around with each strike. The forearm exchange occurring got the fans to cheer Taylor. Leg lariats and heel kicks were flying thanks to Taylor until Melissa was near the corner on her back. Melissa stopped Taylor ascent, meeting her on the middle rope to start another forearm exchange. Yanking Taylor off the ropes, Melissa hit the Air Raid Crash to pin the up & comer.
Winner: Cheerleader Melissa (17:38)
Is It A Classic: A meticulous bout that featured some incredible back and forth grappling. Melissa's ability to torture people was taken to another level here as she twisted and contorted Taylor to her heart's content. But Taylor refused to be easily beaten and showed a lot of heart even in defeat. It was obvious Taylor had the makings of being something special while Melissa was already there. Very good stuff.