Background: Loch Ness made his WCW debut as the newest monster of the anti-Hulk Hogan group, the Dungeon of Doom. The stable's resident behemoth, The Giant, too exception of Ness' being in WCW; leading to this bout. 
Uncensored '96
Tupelo, MS
March 24, 1996
The Giant vs. Loch Ness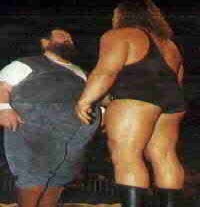 Interestingly enough, Ness used Dean Malenko's future entrance music to signal his arrival. Talk about worlds apart. Also before the match, announcer and legendary manager Bobby Heenan prepared us for just how ugly this match could be by telling us to keep the "Move" notepad away. The Giant opened up early with a slew of knife-edge chops before Ness started headbutting in retaliation. They battled over top turnbuckle head slams until The Giant got a running start to set up his own version of the Stinger Splash that Ness avoided to send The Giant careening over the top rope!
Ness pulled The Giant back in, dropping the big elbow. Instead of going for the pin, Ness went for another elbow that The Giant avoided and used to set up a savate kick. Giant leg drop from The Giant …for the pin fall victory.
Winner: The Giant (2:34)
Is It A Classic: Seriously, with the names involved, did you expect it to be? The show is mostly horrible and this one actually isn't as bad as you'd expect thanks to it not overstaying its welcome. Yes, it's a pretty sad two-plus minutes, but I've, and most likely you too have seen much worse.