Background: A few weeks earlier, Super Crazy defeated Rhino to win the vacated ECW Television championship.
ECW Live
Worcester, MA
March 17, 2000
Super Crazy vs. Rhino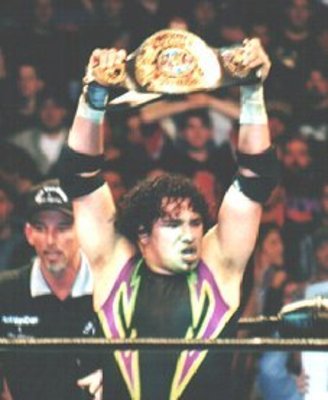 Stern collar & elbow ends with Rhino running through Crazy after the TV champ tried to turn things up a notch in the speed department. Right after Rhino's manager Jack Victory handed him a table the challenger eventually set up in the corner behind him. This moment of setting up allowed Crazy to recover and hit a springboard dropkick. Flapjack by Rhino when Crazy bounced off the ropes for something. Rhino enjoyed wearing out Crazy, but was looking to also put him through that table.
Rhino made a huge mistake of letting Crazy off the mat, taking a few forearms that set up the champ's double jump moonsault. Suddenly, the fans started chanting for The Sandman. Instead, they got Rhino using a running power bomb to send Crazy through the table … for a near fall!
Crazy not only survived the table assault, but also fired back until he got power bombed again for another two count. Rhino called for another table that Jack Victory provided for him. Instead of super piledriving Crazy through the table, Rhino got power bombed through the table instead! Crazy quickly made the cover, successfully defending his title.
Winner: Super Crazy (6:12)
Is It A Classic: It sure hasn't aged well, that's for sure. The magic they created during their first clash over the title wasn't here for this encounter. The fans not truly caring what happened outside of table spots didn't help matters. Compared to their previous and even future encounters, this was a let down.