Background: Joining Vince Russo's Sports Entertainment Xtreme group, Raven, Low Ki and others led a charge against TNA and Jeff Jarrett. This is a match in the rivalry between the two factions, as well as a renewal of the Raven-Sandman feud.
NWA-TNA Pay Per View #32
Nashville, TN
February 19, 2003
Raven & Low Ki vs. The Sandman & Steve Corino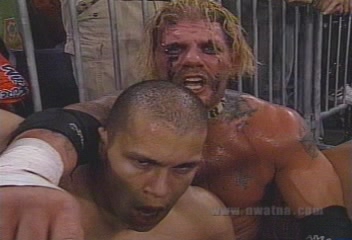 During Sandman and Corino's entrance, they decided to chug down a couple of beers before partying with the fans. This caused a chase by Low Ki and Raven into the crowd that saw Sandman jump over the bleachers to take down his opponents. Corino and Sandman were ping ponging Ki with punches. Grabbing a trashcan, Corino crowned both Raven and Ki. Things finally changed in favor of Raven and Ki when Ki reversed an Irish whip on Corino into the guardrail. Raven used a piledriver to send Sandman through a table as Corino finally recovered and clubbed both men with a trashcan lid. Corino was all-alone, but doing a great job fighting off both men.
Just when everything was going well for Corino, Ki unleashed the capo kick to set up Raven and Low Ki's version of Total Elimination for a two count. Using a chair toss, Raven busted Corino wide open when he went for the drop toe hold into that same chair. Sandman had finally made it to the apron, with trash can in hand. Sandman gained the tag from Corino after "The King of Old School" used the DDT on both Low Ki and Raven. When Sandman came in, he sent Raven and Ki into the trash can face first with drop toe holds. Corino took Raven to the floor with a cactus clothesline as the fans chanted in approval of their favorite companies – TNA and ECW. White Russian Leg Sweep by Sandman on Ki didn't get him the pin. As Sandman prepared to whack Ki between the eyes with his Singapore cane, Raven yanked Sandman around to hit the Evenflow DDT. Raven immediately went for the pin to win this one for his team.
Winners: Raven & Low Ki (8:07)
Is It A Classic: While it's definitely an interesting looking match, the reality is this was just an okay undercard bout on TNA's original weekly pay-per-views to put over a larger storyline – nothing more, nothing less.