Background: Several years earlier, Bob Backlund controversially defeated "Superstar" Billy Graham to become the WWWF champion. Years later, Graham returned to get what was his. After two matches led to controversial finishes including count-outs and disqualifications, it was decided that the final match would be contested under lumberjack rules.
"Live in Madison Square Garden"
New York, NY
December 28, 1982
Bob Backlund vs. Billy Graham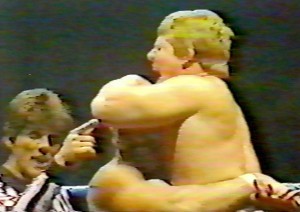 This was during Graham kung fu fighting phase. Graham easily knocked Backlund to the floor after attacking him before the bell. The lumberjacks played their roll perfectly by pitching Backlund back in without hesitation. After tossing Backlund out on all four sides, Graham used his strikes to rock and almost pin Backlund less than five minutes into this battle. Graham made a crucial mistake by rushing Backlund after an Irish whip into the turnbuckles. Hitting the turnbuckles left shoulder first caused Graham to clutch at his left limb. Backlund not only worked over the left arm, but also sent Graham running. The lumberjacks immediately went after the fleeing challenger, forcing him into the ring so Bob could kick, stomp, and pull at Billy Graham's arm.
Big atomic drop by Backlund gained him a near fall that was very questionable. When Graham got up, he backed the champion into the ropes. A collision occurred between the opponents and the referee that caused a brawl that saw Backlund and Graham spill outside. All of the lumberjacks had to push the brawling opponents back in. This situation allowed Graham to turn the tides in his favor. Using shoulder rams in the corner topped off by throat thrusts, Graham had the champion gasping for air. The big bearhug by Graham ended with Backlund uncharacteristically raking Graham's face. Backlund spun around Graham, locking in the Crossface Chicken Wing. Graham, though in tremendous pain, refused to submit. For what seemed like an eternity, Backlund wrenched on the hold until the referee called an end to this one when Graham started complaining about his throat being crushed.
Winner: Bob Backlund (12:33)
Is It A Classic: It is what it is – a no-nonsense brawl where the lumberjacks do their job. It didn't feel like a big payoff bout, and turned out not to be as they fought again just two nights later. It's nothing extraordinary, but solid nonetheless.