Background: Eric Young went from weirdo who was scared of his own pyro to a leader of the international group called the "World Elite". Being a Global champion wanting to defend his title for the first time, Young decided to test the next person he felt could add greatly to his group – Joshi wrestler Ayako Hamada.
Impact
Orlando, FL
12/7/09
Eric Young vs. Hamada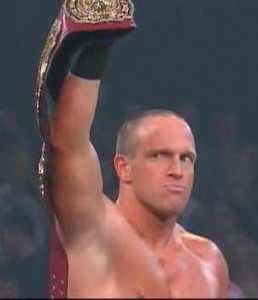 Young immediately established his power advantage by pushing Hamada toward the turnbuckles as the crowd got behind Hamada. Using a spin kick, Hamada dropped Young to the floor for a chop-headbutt combination. Tossing Young back in, Hamada was able to catch Young on the top rope with another spin kick. Showing great agility was the challenger by executing a dragonrana … for a near fall!
Big slam by Hamada put Young in position for her top rope moonsault. At the last second, Young moved out of the way. Throwing his legs across the middle rope, Young was able to pin Hamada to retain the title.
Winner: Eric Young (1:47)
Is It A Classic: TNA had an opportunity to do something special here, but instead put two people capable of a very good match in the ring for less than two minutes. They crammed at least a ten-minute story into two minutes as best they could, but in the end, it was just a waste of time.