Background: For over nine months, Pro Wrestling Guerilla originator Super Dragon and one of Canada's greatest exports on the Indy wrestling scene Kevin Steen waged war in California. When things hit the most horrific levels of violence, it was determined Steen and Dragon would end their rivalry in a match where barbarity was not only allowed but encourage – a Guerilla Warfare match.
"Astonishing X-Mas"
Los Angeles, CA
December 18, 2005
Kevin Steen vs. Super Dragon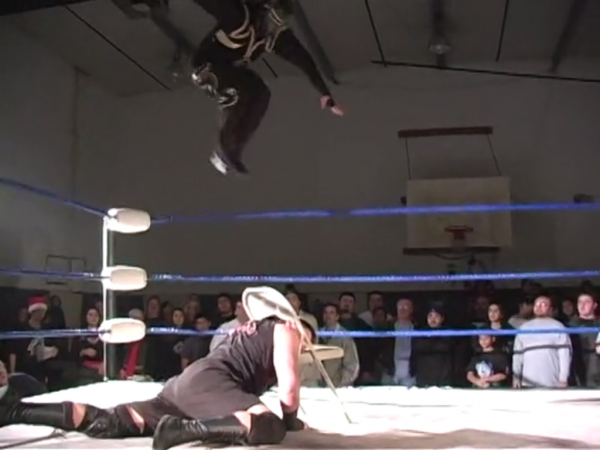 Dey's a clubberin' in Califourna, Tony! Now dey's a clubberin' in da crowd, Bobby! I could do this whole thing in Dusty Rhodes, but that would take away from the fact Super Dragon and Kevin Steen started this thing off by destroying section after section of the seating area with each other's heads and bodies. When Steen tried to bring the action inside, Dragon dove on him to set up a chair shot to the head. Steen paid him back seconds later, leading to an exchange of sickening shots with weapons and their bodies. Somersault leg drop by Steen hurt him as much as it did Dragon. Using the entrance as a weapon, Dragon almost knocked Steen out. The parquet floor became a weapon as Dragon suplexed and slammed Steen across the hardwood.
Steen rallied back by cracking Dragon in the back with a chair before taking a Super Dragon mask from the souvenir stand. After putting the mask on, "Mr. Wrestling" added injury to insult by using Dragon's own Curb Stomp against him. Dragon shook off the move's effects quickly, giving Steen a taste of his own medicine by Curb Stomping Steen not once, but twice! Dragon grabbed a table from underneath the ring, setting it up at ringside. While Dragon couldn't put Steen through the table immediately, he was able to use a spinning heel kick off the apron. Steen turned the tables literally by suplexing Super Dragon from inside of the ring, through the table! Steen went for the first pin attempt of the match when he rolled Dragon back in. When that failed, Steen executed a Swanton Bomb that also ended with him attaining a two count.
A Super Dragon fan irritated Steen so much that he threatened him with a chair. Refocusing on Dragon saw Steen be super senton splashed. When Steen tried to roll to the floor, Dragon leapt over the top rope to double stomp the back of Steen's head! Dragon threw a steel chair into the ring before doing the same with Steen. Dragon just wrapped the chair around Steen's head to set up a Curb Stomp on the chair! As if that wasn't enough, Dragon opened the chair before sticking Steen's behind between the chair's back and seat so he could double stomp "Mr. Wrestling's" prone head … for a two count!
Dragon left the area, grabbing a Christmas-themed canister usually used to hold popcorn. Instead of popcorn, Dragon revealed the contents to be hundreds of thumbtacks. After busting Steen in the head with the can, Dragon went for the Psycho Driver on the thumbtacks. Steen countered, power bombing Dragon on the tacks to a huge ovation and another near fall. The fans were starting to sway in favor of Steen for a short period of time. Steen pulled several chairs out, tossing them into the ring as the fans had a dueling chant going. As hard as he tried, Dragon could stomp a Package Piledriver on the chair, but was able to kick out right before the three count.
Steen opted to leave; making us believe this one was actually over. Something convinced Steen to come back – spotting a board covered in barbed wire. Setting up two chairs so they faced each other, Steen placed the board covered in the dangerous wire in position for another power bomb. Dragon saved himself with a clothesline. Double underhook superplex by Dragon on Steen sent him through the barbed wire board … for a two count!
As Steen screamed in agony, Dragon exited the ring to grab another table that he set up on the floor. Super Dragon hoisted Steen off the apron, hitting the Psycho Driver through the table! Steen's head was bleeding following the fall, and his body was pretty much lifeless. Yet, Dragon wanted this to continue. Grabbing another tin canister, Dragon revealed a pair of handcuffs. Cuffing Steen's hands behind his back, the masked man used his Violence Party combination topped off with some knees to "Mr. Wrestling's" face, Kawada kicks, and a sickening chair shot to the head after Steen spit on him!
Pouring out more thumbtacks from the new can and faking a pin, Dragon hoisted Steen off the top rope for another Psycho Driver. Dragon dropped Steen headfirst onto the thumbtacks. Bouncing off the mat, Steen landed in the barbed wire, becoming the perfect spot for Dragon to finally pin "Mr. Wrestling".
Winner: Super Dragon (27:50)
Is It A Classic: Not only is it a classic in modern Independent wrestling history, it's also one of the most brutal battles you'll see anywhere. No, there wasn't a gratuitous amount of blood or gore, but the hatred that oozed out of both men made up for things that would usually occur during matches like these. I can't recommend this match enough for those who can stomach the sight of two men practically killing each other.