Background: After turning on their mentor Raven, CM Punk and Julio Dinero became targets of not only Raven himself, but also Raven's former allies/enemies like The Sandman. One week prior to this event, Punk and Dinero decimated The Sandman in a Handicap Singapore Cane match.
NWA-TNA PPV #78
Nashville, TN
January 21, 2004
CM Punk & Julio Dinero vs. The Sandman & Balls Mahoney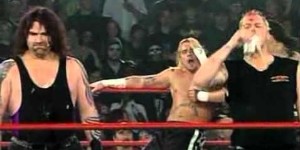 In a terrible piece of positioning during his elaborate entrance, The Sandman spilled at least two cans of beer on nearby kids (who were incredibly excited to, possibly, get their first taste of beer). During Balls' entrance, Dinero stole The Sandman's trademark Singapore cane to bash its owner in the head. Mahoney made his way to the ring, using his series of ballsey jabs until a pair of enzuguris knocked Mahoney and The Sandman down. The former ECW competitors quickly turned the tables as The Sandman used a hurricarana to put Punk in position for Mahoney's frog splash … that earned Balls a near fall only because of Dinero's interference!
Dinero super kicked and dropkicked The Sandman to the floor as Mahoney used the Cactus Jack clothesline to send himself and CM Punk outside of the ring. The Sandman recovered, dropping Dinero across the top rope in position for a steel chair leg drop to earn a near fall of his own. Things were going well for The Sandman when Julio lured The Sandman into Punk's springboard dropkick. Punk followed up with a kick that drove the same chair into Mahoney's face. Hoisting the dazed Balls off of his feet, Punk held Mahoney in position for the decapitation leg drop double team that ended with both Dinero and Punk pinning Balls for the victory.
Winner: CM Punk & Julio Dinero (3:41)
Is It A Classic: A garbage brawl that was ultimately forgettable and only proved to be a footnote in a feud that never had a definitive conclusion. Nothing to see here.