Extreme Championship Wrestling was in an interesting position when September 1999 rolled around. For the first time in the company's short history, ECW inked a deal with The Nashville Network to air an hour TV show every Friday night. While this seemed like a big deal that would help the company become bigger than anyone ever imagined, backstage problems involving money and WWF and WCW looking for additions to their roster by scouting ECW talent took away some of ECW's luster and roster. One ECW mainstay whose time was limited to ECW after signing with the WWF was none other than the ECW World Heavyweight champion Taz. ECW hoped to usher in a new era with Anarchy Rulz, and Taz defending his title for possibly the last time would change the dynamic of the company forever.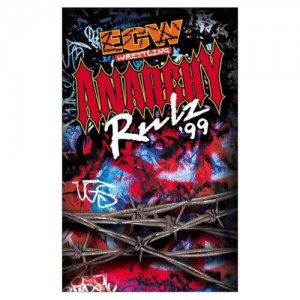 Anarchy Rulz 1999
Villa, MI
9/19/1999
1. Lance Storm defeated Jerry Lynn
2. Jazz defeated Tom Marquez
3. Nova & Chris Chetti vs. Simon Diamond & Tony Devito wrestled to a no contest
4. Yoshihiro Tajiri defeated Super Crazy and Little Guido
5. Justin Credible defeated Sabu
6. Mike Awesome defeated Masato Tanaka and Taz to become the new ECW World Heavyweight champion
7. Tommy Dreamer & Raven defeated Steve Corino & Rhino to successfully defend the ECW World Tag Team title
8. Rob Van Dam defeated Balls Mahoney to successfully defend the ECW Television title
Right:
Calgary's Greatest Athlete: As you'd expect from a match featuring Jerry Lynn and Lance Storm, the opening minutes featured some crisp mat wrestling topped off by Lynn's highflying offense. Even though Storm got in a few shots on Lynn's taped abdomen – which was caused by the Impact Players attacking Lynn on ECW television shortly before this show – the "New F'N' Show" took Lance down at every turn. Sadly for Jerry Lynn, his dedication to high-speed offense came back to haunt him when the action returned inside following an exchange at ringside. Moving at top speed, Lynn ran into a stun gun/hotshot maneuver that announcer Cyrus greatly noted saw Jerry land lower chest first rather than meeting top rope to throat as usual.
Storm's abdomen work on Lynn slowed the match done tremendously, but never took the crowd out of this bout. Lynn eventually rallied back, leading to, easily, one of the longest series of near fall exchanges featuring flash pins. Though impressive, the sequence didn't lead to victory for either man. Seeing things were going downhill, Storm – who used a low blow earlier in the match – grabbed a chair in hopes of putting Lynn's lights out. This chair, while not used to crown Lynn, would play a huge part in the match's closing moments. After placing the chair between the ropes, Lynn ended up being whipped toward the furniture turned weapon. Lynn avoided the chair, only to slide abdomen first into the steel ring post. Though Lynn fought valiant after the sickening blow, his comebacks were easily halted by strikes aimed at Jerry Lynn's midsection. Jerry Lynn's body eventually gave out on him and allowed Storm to sweep Lyn into a ¾ nelson pinning combination to suddenly win.
While obviously choreographed at times, this would become a contender for Match of the Night thanks to the smooth technical display, smart abdomen work, and a hot crowd who was into everything.
Japan Is Better Than Mexico and Italy: As a way to expand on the never ending series of matches between Tajiri and Super Crazy, ECW officials decided to add a little Italian into the already international warfare with Little Guido. The action was fast and furious from the opening bell. Unlike most Triple Threat matches, no alliances were formed for a significant amount of time. Guido and Tajiri found themselves on the same side of wearing out Super Crazy following a cross body block that allowed Guido to lock Crazy in the camel clutch. Tajiri measured up Crazy, kicking him in the face as Guido held him. As announcer Joey Styles noted that Tajiri's kicks never miss, Tajiri kicked Guido in his face to stop the submission and bring the fans to their feet. For the next several minutes, Tajiri dominated both men on the floor and in the ring. Guido was making a comeback thanks to his backup in Big Sal when Crazy dropkicked Sal to the floor through a table. Being placed in the tree of woe, Guido was wide open for Tajiri's running basement dropkick that left Guido prone for Crazy's springboard moonsault to pin and eliminate Guido.
For the next five minutes, Tajiri and Crazy turned up the pace, executing power bombs and brain busters in an attempt to put the other down. Crazy hoped to used the same moonsault attack on Tajiri that he finished Guido off with. Instead, Crazy flew abdomen first into Tajiri's knees. One brain buster later and Tajiri proved his superiority over Crazy once again.
Like Lynn vs. Storm, you shouldn't expect more than an exhilarating battle of wills, highflying action, and high impact maneuvers when Super Crazy, Tajiri, and Little Guido are in the ring.
Anarchy's Incredible: Justin Credible decided he'd get Sabu banned from wrestling in the U.S. Sadly for Credible, he forgot to redo the papers and ended up letting Sabu return. But not one to be outdone, Credible had a restraining order that would prevent Sabu from wrestling tonight. So what happened when Credible revealed the restraining order? The ref told him, "…its anarchy rules," the ring announcer got clobbered with Credible's Singapore cane; Sabu hit the ring with an offensive flurry like only Sabu could. Credible found himself being kicked from inside to outside as Sabu's body flew around the ring like Sabu was wearing a cape.
Things suddenly took a turn for the worse for Sabu when he two attempts at putting Credible through a table ended up with Credible's head being cut and Sabu's abdomen getting sliced. Credible took advantage of Sabu's wound after some timely interference from his manager Jason, locking in Sabu's own Camel Clutch. It didn't take long before the exchange of Camel Clutches turned into another brawl featuring Credible breaking his cane over Sabu's head, bulldogging Sabu through a table, and avoiding a triple jump moonsault by tripping Sabu face first into a chair. Yet, Sabu continued to fight and almost turned Credible's own finisher – That's Incredible Tombstone Piledriver – against him. In the end, it was Credible who spiked Sabu on a chair with the piledriver, pinning the hardcore legend to the shock of everyone.
Similar to the first three way, you had guys go out there and bust their butts by doing a collection of spots that any sane person wouldn't do. The match is hardcore fun, if not repetitive. At the time, the ending was incredibly shocking and turned out to be one of Justin Credible's best ECW matches with someone not named "Jerry Lynn".
An Awesome World Champion: Taz, a.k.a. "ECW's resident bad mutha– shut yo' mouth" found himself in an interesting position when this show happened. Taz was the ECW World Heaveyweight champion, but recently signed a WWF contract. It was obvious Taz would leave ECW in the near future. The question was who woul dethrone Taz. Masato Tanaka – a hardcore wrestler from Japan – had the chance to make history by winning the ECW Worl title while being the FMW champion. Little did anyone know that they wouldn't be the only people in the ring. From the crowd came Mike Awesome – Tanaka's greatest rival and a man ECW used to showcase how dangerous Tanaka was. Under the demand of the champion, Awesome was let into the match. The first bell sounded with Taz watching Awesome and Tanaka tearing into each other. When Taz finally made his presence in the action, Taz started suplexing everyone. For the first minute of the match, Taz looked to make short work of Tanaka. Instead, Taz was caught with the Roaring Elbow from his original challenger; leaving Taz open for a Awesome frog splash to eliminate the champion to the shock of everyone watching. In less than three minutes, two men conquered the unbeatable Taz.
Like a true champion, Taz bowed out so Tanaka and Awesome could determine who would walk away the new ECW champion. For those who haven't seen a Awesome-Tanaka match, here's what to expect: unprotected chair shots to the head; fighting spirit; a dangerous Awesome Bomb that sent Tanaka careening over the top rope, through a table on concrete. And that's keeping it light. In the end, Tanaka wanted to superplex Awesome through a table in the ring. Awesome countered with the super power bomb that ended with Tanaka's spine meeting the pine. Falling on top of Tanaka, Awesome became the new ECW World champion.
From a hot crowd to a stunning change in the match to the outcome that occurred after ten minutes of pure brutality, this was ECW in a nutshell. Not just because of the violence, but also the raw emotion shown by everyone in the ring and watching around. Arguably, it's probably one of the last magical moments in ECW history.
Dam, He's Got Balls: Originally, the ECW Television champion Rob Van Dam was supposed to take on England's Johnny Smith. Before the main event could commence, a brawl ensued that saw Balls Mahoney save his friends Axl Rotten and Spike Dudley from a Impact Players' beating by bashing Smith in the head with a chair. At that point, Rotten took it upon himself to challenge RVD for Balls Mahoney.
During the early minutes, Mahoney was dominating RVD as Joey Styles put over Balls' amateur wrestling background that most ECW fans never saw. Things picked up as RVD's unorthodox offense stopped Balls from countering RVD's usual chair-based offense. Taking Balls to the floor after having his head cracked with a chair, RVD knocked Balls into the crowd for his Van Daminator. The crowd rose to the feet when they saw RVD reentering the ring, scaling the ropes. Some twenty-five feet RVD sailed from in the ring to the floor to take down Balls with a somersault plancha!
The back and forth action continued for several minutes. When RVD would be in the driver's seat, Balls woul catch RVD running with a power slam. If Balls had the momentum in his favor, the champion swept Mahoney in position for rolling thunder. By the fifteen-minute mark, Mahoney found a nice groove that was assisted by a sick chair shot that dropped RVD face first against the mat. Seeing his guy in trouble, RVD's manager Bill Alfonso went full blown suicidal by trying to clobber Balls with a chair to no avail. Though Alfonso's strategy didn't work, Alfonso's actions did give RVD a chance to recover and catch a turning Balls with a leaping Van Daminator that set up RVD's Five Star Frog Splash. Three seconds later and RVD had another successful title defense.
While not as good as the World title match (which should've bee the main event), Balls brought out something different in RVD as Van Dam didn't look dominate or equal to Mahoney like against other opponents. Instead, Balls seemed to be one step ahead of RVD at every turn. There's a question if Alfonso didn't get involved could RVD's historic reign would've ended here. Good stuff all around.
Wrong:
Simon's Problems Becomes Everyone's Horror: Following the opening match, Simon Diamond's presence bought us several impromptu matches featuring wrestlers serving as timekeepers when his search for a partner failed thanks to the fighting prowess and the Cyrus declared, politically incorrect, "ghetto booty," of Jazz. To save Jazz from a three on one bearing, Chris Chetti and Nova hit the ring. Unfortunately for Chetti, a simple caperana ended with him breaking his leg; leaving Nova all alone against Diamond and Devito. So what happens next? More interference as Danny Doring and Roadkill, along with Ms. Congenitally (the future Lita of WWE fame) attacked everyone. Roadkill splashing Jazz signaled the arrival of more wrestlers. And when you're in ECW, a ring full of wrestlers brawling can only mean one thing – the arrival of New Jack. For the next few minutes, the crowd went crazy as New Jack bashed people with a keyboard, broke a guitar over someone's head, and even used a staple gun to attach someone's skin to their forehead even more than it naturally was. All of this led to … nothing! Well, it actually led to a hot crowd enjoying several minutes of "Natural Born Killa" violence. But in the grand scheme of things, it just felt like something to pass the time without a second thought of how anyone other than New Jack would look after the slaughter.
The Partners That Can't/Can Get Along: For those who don't know, Raven and Tommy Dreamer had one of the longest rivalries in modern wrestling history during the 90s. To recap what happened between them would take up this whole review. That's why it was strange for Raven to return, help Tommy Dreamer beat The Dudley Boyz, and become the ECW Tag Team champion alongside Dreamer. Originally, their first defense was supposed to be against rap duo the Insane Clown Posse, but they backed out. So Steve Corino and Rhino decided to take it upon themselves to fill the void. Oh, and Dreamer's got a bum back, so he couldn't do much here.
Unfortunately for Dreamer, he found himself in a two on one situation as Raven hadn't come to the ring during Dreamer's brawl with Rhino. Dreamer's valet Francine took it tried to help, but ended up being slammed by "The Man-Beast". After Rhino laid out Dreamer and Francine, Raven finally came to the rescue. Raven used his Evenflow DDT on Rhino and Jack Victory as Dreamer did the same to Steve Corino for a short defense. And by short, I mean this whole thing lasted a good three minutes. Moving along, nothing to see here.
Overall: With only a couple of flubs that thankfully don't last too long, you have one of the most well rounded ECW pay-per-views in history. Want a great technical match? You got it here. Want a three-way dance with international flavor. It's here.  What about an impromptu match featuring raw emotion and a shocking ending? ECW's got you covered. And that's not even mentioning Credible-Sabu and RVD-Mahoney. This is definitive viewing for any wrestling fan that wants to remember the last great days of ECW, or never saw the original ECW at its best before its demise.