Extreme Championship Wrestling had a way of making its fans feel one with the company. One of the best examples of this was its annual "Cyberslam" event where the fans had the opportunity to meet and greet their favorite (and maybe not-so-favorite) extreme grapplers before watching some of the action ECW was known for. To top that off, a question and answer session was also available to the fans where they could ask various ECW wrestlers whatever they had on their mind.
The 1999 edition of this event saw various debuts, returns, confrontations between old and new rivals alike, and one of the craziest Steel Cage matches in the event's history. But the question that needs to be answered is if "Cyberslam 1999" is a classic show.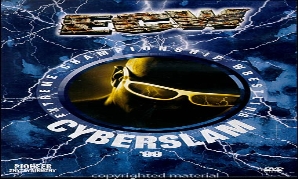 Cyberslam 1999
April 3, 1999
Philadelphia, PA
1. Jerry Lynn defeated Yoshihiro Tajiri
2. Nova defeated Rod Price
3. Super Crazy defeated Mosco de la Merced
4. Taka Michinoku defeated Papi Chulo
5. Rob Van Dam successfully defended the ECW Television championship against 2 Cold Scorpio
6. Taz successfully defended the ECW World title against Chris Candido
7. Shane Douglas defeated Justin Credible
8. The Dudley Boyz (Buh-Buh Ray & D-Von Dudley) & Mustapha defeated New Jack, Balls Mahoney & Axl Rotten in a Ultimate Jeopardy Steel Cage match
Right:
International Incident (Part One): To kick off this convention was none other than "The New F'N Show" Jerry Lynn taking on Yoshihiro Tajiri when Tajiri looked like any Japanese young boy. Unlike a puroresu young boy, Tajiri proved quickly that he was here to make a statement in ECW by taking the man who tested Rob Van Dam greatly to the limit. The opening minutes were lightning fast as both men went for reversal after reversal until it settled into a good old fashion highflying contest that saw Lynn take the sky with a plancha. Tajiri wouldn't be shown up, executing an asai moonsault minutes later after he kicked Lynn into the front row. The crowd was losing its mind during this back and forth battle.
Slick moves like Tajiri rolling over Lynn's back to avoid a frankensteiner and Jerry swinging Yoshihiro into a Liger Bomb gave the fans every reason to wait in loud anticipation for the finish. The ending came out of nowhere when Lynn caught Tajiri with the Cradle Piledriver – which announcer Joey Styles sold with great confusion as to how someone could finish a match in ECW with a cradle piledriver. Lynn did here against Tajiri in a thrilling opener.
Super Fly: In hopes of continuing the Lucha Libre tradition they started a few years prior with the likes of Rey Mysterio Jr., Psicosis, and Juventud Guerrera with Super Crazy and ECW newcomer Mosco de la Merced. The usual Lucha opening of arm drags and head scissors brought the fans to their feet in joy that one of their favorite styles of wrestling was shining again. Then things hit another level as both men started taking to the air by throwing their bodies like right hands. Moonsaults from the top rope into the crowd, slingshot sentons to the floor, and counter after counter (including El Mosco stopping a moonsault by putting his boots up so that they slammed into the descending Crazy's chest) became the norm.
Sadly, the crowd was dying by the final stretch as both men traded power bombs until Crazy – who took a twisting 450 splash moments earlier – hit a frog splash out of nowhere for the pin fall victory. It's sad such a fun match got little to no reaction because the fans were becoming numb to the high flying and big moves these guys were doing.
International Incident (Part Two): Former and maybe the greatest WWF Light Heavyweight champion in history Taka Michinoku returned to his old American stomping grounds to take on the future Essa Rios, Papi Chulo. Like the previous match, both men were hitting big moves and flying all over with little to no fan support. Big moves like top rope hurricaranas and tornado DDTs were used in the opening minutes, causing them to attempt to top their previous actions later in the match.
Control went back and forth throughout the match's entirety, leading to Taka shaking off a missed moonsault to power bomb Chulo. A few seconds later, Taka hit the Michinoku Driver II, spiking Chulo directly on his head to pick up the three count immediately after.
Just like the previous match where both men went out there to put on a crazy match, but the fans just weren't buying what was going on. Not a bad match at all.
No Gold Scorpio: 2 (or Too) Cold Scorpio entered the ECW Arena for the first time in a while to take on his highflying counterpart in ECW TV champion Rob Van Dam. Shockingly, Van Dam couldn't control the pace during the opening minutes as he had been known to do during his days as TV champion thanks to his unique offense. Scorpio, being very unique in the ring himself, was able to outmaneuver and almost pin Van Dam several times. Things were getting sloppy during RVD's comeback, but the effects of his offense worked as he took control and led to a showcase of the champ's kicks and patented attacks.
Like the matches before them, the momentum started swinging back and forth as announcer Joey Styles commented on Scorpio being the type of wrestler to neutralize RVD's attacks with stuff just as, if not more incredible than what RVD could come up with. After setting up a table at ringside and cracking RVD with a couple of chair shots, things seemed to be going well for Scorpio. Then RVD's former partner Sabu ran out, attacking Scorpio by putting him through the table. The little bit of support the fans found for Scorpio's performance was lost and given to Sabu putting someone through a table. Scorpio never recovered, leading to his downfall via a Van Daminator-Five Star Frog Splash combo so RVD could successfully defend his championship.
This match wasn't bad, but considering the names involved, you'd expect so much more. They had a nice story going with Scorpio's offense being RVD's kryptonite. Sadly, instead of letting RVD win clean to put him over strong, they went with Sabu interference to give Van Dam a chance to win. It would be one thing if Sabu's interference set up a rematch, but it didn't. Okay match, bad finish.
Beat The Replacement If You Can: So Steve Corino decided he was going to bring wrestling back to ECW. ECW World champion Taz confronted Corino, threatening to kill him. Of course, Corino backed off to give someone else a chance at the champ – Chris Candido. After cutting a "shoot" promo, Candido challenged Taz to a Falls Count Anywhere match. This should give you an idea of how this one turned out. Yep, a lot of crowd brawling after a short period in the ring where Candido actually controlled the match's tempo. They traded suplexes on the floor. Candido dropped an elbow from the announcer's stage onto a prone Taz some five feet below. They pretty much walked each other around the Arena, beating each other while only a portion of the fans and the people watching at home were able to see the action. Thankfully, they made it back to the ring, causing a hilarious, "Welcome back!" chant from the thankful fans that didn't experience most of the action.
Candido found himself in control until he set up a table in the corner. Taz reversed whatever Candido had in mind, half nelson Tazplexing Candido through the table! Candido was left in horrible pain, clutching his neck. The referee called for the bell, helping Candido onto a stretcher. Being Taz, he couldn't take just hurt a man; he had to choke Candido out. Yanking Chris of the stretcher, Taz dragged Candido back in to lock in the Tazmission until Candido tapped out.
Once again, another okay match with a bad ending. Seriously, Taz couldn't win against a guy no one believed would win in the first place?
Getting Franchised: Justin Credible and Lance Storm took it upon themselves to rid ECW of the "dinosaurs" holding up spots from men like themselves – Shane Douglas and Tommy Dreamer. Reasonably upset over Credible and Storm proclaiming him to be the very same thing he claimed men like Hulk Hogan and Ric Flair were, Shane Douglas faced Credible here. The pre-match, profanity-laced Shane Douglas promo was the precursor to a stiff exchange of knife-edge chops and strikes that had the fans finally popping, and Douglas in control. Vertical suplexes, gourd busters, Credible being driven head first through a table were just some of the things Douglas executed in an attempt to put Credible in his place.
But the numbers game became too much for Douglas – who only had Francine at ringside to contend with both of Credible's seconds, Jason and a then-unnamed Jazz. Credible slowed the pace down considerably after cutting Shane by slamming him face first against a pillar, putting Douglas on the mat while using chin locks and the like to make sure "The Franchise" stayed grounded. Douglas wouldn't be denied, though, gorilla press slamming Credible through a table in the corner for, quite possibly, the biggest response of the evening from the crowd. The match deteriorated into a battle of sick Singapore cane shots that left Douglas demanding Credible to man up and prove he was worthy of such a lofty title as a top player in ECW. Douglas proved that he still had a ton in the tank left by not only surviving Credible's brutal barrage of cane shots, but also pinning Justin Credible following the Pittsburgh Plunge.
After the match, Storm hit the ring to help Credible down Douglas and the attempting savior in Tommy Dreamer. This match was the exact opposite of RVD-Scorpio as you wouldn't expect such a great match with the men involved. Douglas and Credible turned the crowd on its ear and left them wanting more. A really good match that rivaled the opener for Match of the Night.
It's Extreme Wargames: "The Original Gangsta" New Jack hated his old Gangstas partner Mustapha. Mustapha hated New Jack. New Jack hated (still hates) the Dudley Boyz. The Dudley Boyz hated everyone including Balls Mahoney and Axl Rotten. So ECW put them in a cage with Wargames rules where a person from each team would alternate entries into the cage until the full team is in and we can have a fall take place. With the names involved, you could and should expect a lot of blood, weapons and extreme violence. That's exactly what happened as New Jack made his entrance following a tale that he left the building. If you've seen anything close to a New Jack match, you've seen this match. To add something different to the norm, Balls Mahoney spewed fire like he was Dhalsim from "Street Fighter" to take out Mustapha before being taken down and pinned by The Dudleyz's 3D finish.
But things weren't done between Jack and Mustapha. With The Dudleyz leaving him high and dry, Mustapha was stuck in the cage to take a big splash from New Jack that sent his former partner through a table to a huge ovation.
There's not much to say about this fight. If you like the crazy violence and watching people bash each other's brains out with weapons and bleed all over the place, this is your type of match. I can't give it a Wrong simply because it gave you exactly what you expected from the men involved in the match stipulation here, and had the fans losing their minds.
Wrong:
Pure Specimen: So, Tommy Dreamer claimed Lance Storm was on "the gas" – a.k.a. steroids. To prove how pure he is, Lance Storm took a bottle of urine from his valet Dawn Marie to show he was ready to be tested before challenging Dreamer to do the same. When Tommy came out, we found out this whole thing was a set up that ended with Dreamer pouring the urine on a knocked out Storm following the DDT. Okay, the fans loved this segment, but it just felt like a big waste of time. They had a more effective way of getting the Dreamer-Shane Douglas-Impact Players feud over later in the show. This wasn't needed at all. 
Why is This Happening: Nova was scheduled to have a match with Rod Price. The match was going on fine when Price's partner Skull Von Crush came out and attacked Nova. This brought out Nova's tag team partner Chris Chetti to even the sides, leading to a confusing pseudo-tag team match that really wasn't a tag team match. In the end, Nova mercifully pinned Price after a miscommunication between Von Crush and Price occurred.
Following the match, Von Crush attacked Price for not listening to him and the fans didn't care whatsoever.
Is It A Classic: Solid show? Yes. Classic? Not hardly. There's some good stuff here, that's for sure. But nothing here is must-see. The crowd truly did take something away from this show, but you can't blame them for becoming desensitized. Check it out if you want to, but don't get your hopes up about seeing something special.