Background: The six-month long rivalry between Edge and John Cena came to "Saturday Night's Main Event" where Edge – who had recently won the WWE Heavyweight title back – took on Cena in the episode's main event.
Saturday Night's Main Event
Dallas, TX
July 15, 2006
Edge vs. John Cena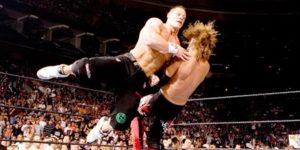 Edge decided early that he wanted no parts of his challenger, but Cena was ready to brawl with the champ. Trying to knock Edge off the apron cost Cena as the champion pulled the top rope down and sent him to the floor prior to the commercial break. The show returned with Edge utilizing a clothesline to stop the challenger's right-handed offense. Edge had the superplex in mind, only for "The Rated R Superstar" to slip as he hoisted Cena into the air. Though Edge connected with the maneuver, it took a lot out of him. Both men got up with the challenger throwing the first right hand of many. Edge countered with a simple kick that landed right between Cena's eyes that turned the match back in his favor. And dey got up a clubberin', Tony! The fans were behind the challenger as Cena executed two of his "five moves of doom" by executing the blue thunder bomb-5 Knuckle Shuffle combo to set up his F-U/Attitude Adjustment … to earn a near fall thanks to Edge's valet Lita yanking the referee out of the ring. With the ref down, Cena found himself avoiding the Spear to put Edge in the STF. As the champ struggled to not submit, Lita assaulted the referee to stop him from seeing a title change occur. The referee had no choice but to disqualify Edge and give Cena the win, but not the title.
Winner: John Cena (6:20 Shown)
Is It A Classic: This was a good TV main event to push the story toward a bigger show. The fans were really into it, meaning there was a lot of entertaining action viewers probably didn't see that got them so fired up. It wasn't anything special, but a nice talking point in this eventual rivalry that made these two synonymous with each other.