There is Strength in Numbers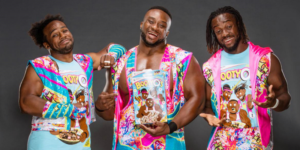 The world of professional wrestling was once solely made for two individuals doing battle inside a squared circle to prove one's superiority. As the years & decades progressed so did the rules in regards to the typical style of a pro wrestling match; specifically more than two grapplers fighting at the same time. More and more, tag team matches became the norm for any pro wrestling card around the country and, eventually, the world. Finding a like-minded wrestler ready to stand by your side is something special as long-time wrestling fans have witnessed many a duo split for various reasons; be it hostile or amicable – the same can be stated about the figurative relative of tag teams: factions/stables/group. Featuring at least three people usually formed with a common goal – be it winning titles, shaking up the power structure of the company they work for, and/or getting revenge on similar adversaries – the wrestling faction is one based on the idea that strength lies with these having the numbers advantage. While an argument can be made to both validate and scrutinize the belief that the more numbers you have in your group's ranks the better, the fact remains that having more than one person watching your back in the wild world of pro wrestling is usually a good thing.
So many wrestlers learned this truth including some of the greatest of all time such as Ric Flair, Dusty Rhodes, Bret Hart, Shawn Michaels, Steve Austin, AJ Styles, and even big, bad Brock Lesnar. By the late 1990s and early 2000s, it was rare to even find a single wrestler not associated with a group. The New World Order, D-Generation X, The Hart Foundation, a variation of The Four Horsemen, The Corporate Ministry, and lesser known factions such as The Union littered the landscape of wrestling while emphasizing that success might not be obtained solely through a single person's talent, but thanks to the help of friends (or even enemies of your enemies). Today you have the likes of The New Day, The Bullet Club, The Shield, Absolution all showing just how powerful a group of people can be in & out of the ring. While being an individual is mostly always great, knowing you have a backup to ensure your personal success is just as great as throwing up your arms to form an "X" or constantly pointing at your crotch to insult someone.