Background: Resistance Pro Wrestling was a Chicago based company created by the minds of former ECW World champion Raven and Smashing Pumpkins lead singer Billy Corgan. Resistance Pro crowned its first Heavyweight champion during its second show featuring former NWA champion The Sheik taking on Kevin "Owens" Steen and the son of the British Bulldog Harry Smith in a Triple Threat match.
Rise
Chicago, IL
January 13, 2012 
Harry Smith vs. Kevin Steen vs. The Sheik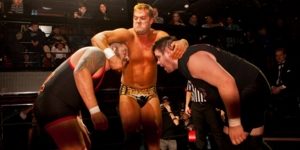 Steen took a corner, watching Sheik and Harry slug it out until Smith kicked his opposition to the floor. When Smith and Steen locked up, they found themselves evenly matched on the mat. Big belly-to-belly suplex by Smith stopped a charging Steen. Sheik ran in to jump Harry from behind, but took a power slam instead. All three men were back in the ring, with Smith looking for a flying arm bar on Steen that was stopped by The Sheik. Steen saved Sheik from taking a suplex to the floor, DDT'ing the stunned Harry. Steen finally made The Sheik understand that they needed to work together via a friendly hug. Simple stomps and kicks from his opponents left Harry on his back or out on his feet. Sheik was doing a lot of the heavy work as Steen jawed off with the fans. The relationship between Steen and Sheik started to break down when pins came into play.
Thankfully for Steen – who initiated the miscommunications – Sheik refocused and saved Steen from taking the Sharpshooter by clipping Harry's left leg. Smith could barely stand as he tried to fight off both men. During Steen's assault of Smith's leg, Sheik pulled out the railroad spike, but didn't use it when Steen turned around. Cannonball in the corner by Steen set up a pin on Harry and infuriated Sheik. Using the spike, Sheik stopped Steen's pin before choking him with the spike. Harry got up swinging, but a double clothesline ended Harry and Sheik's fight. Spear by Steen on Harry made the crowd very pro-Steen. Steen missed a shoulder ram into the corner on Harry, allowing Smith to explode with several clotheslines, a big body drop, and the Hulk Hogan finish. Steen stopped the sure pin on the Sheik, but took a power bomb from Smith for his trouble. Sheik saved Steen from being pinned, using a neck breaker on Harry for another two count. Steen used some clever maneuvering, using a lung blower on Sheik while landing right on top of Harry. Steen locked Harry in the Sharpshooter, only for Sheik to come after him with one of his boots. Steen ducked Sheik's wild swing with his footwear, taking the boot to clobber Sheik. Steen turned to Harry, thinking about doing the same thing to him. Steen decided against using the boot, spitting on Sheik's attire. Steen walked into Harry's Sharpshooter. For several heated moments, Steen refused to give up. Unfortunately for "Mr. Wrestling", the pain became too much, and he no choice but to tap out – making Harry the first Resistance Pro Heavyweight champion.
Winner: Harry Smith (20:17)
Is It A Classic: This turned out to be a really good Triple Threat encounter that put Smith over like a world-beater. While not a classic it was still a very memorable out that really gave the title a strong start.